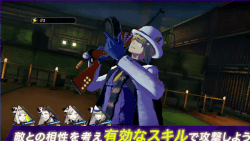 Zio (ジオ, Jio)? is a damage-dealing Electricity skill. It is the base of the "Zio" line, consisting of 6 variations, each varying in power and range.
Effect
[
]
Zio deals light Electricity damage to one target.
In Devil Summoner: Raidou Kuzunoha vs. The Soulless Army, Zio sends a lightning bolt along the ground which strikes a target for light Elec damage. Targets weak to Elec will be inflicted with the Shock status.
In Persona 3 and Persona 5, like all Electric skills, Zio also has a low chance of inflicting Shock. The effects of the ailment vary.
Skillset
[
]
Party members
[
]
By leveling up
[
]
By equipping accessories
[
]
Party members are able to learn Zio by equipping certain accessories:
Demons
[
]
Shin Megami Tensei

[

]
Shin Megami Tensei II

[

]
Shin Megami Tensei: if...

[

]
Shin Megami Tensei NINE

[

]
Devil Summoner: Raidou Kuzunoha vs. The Soulless Army

[

]
Megami Ibunroku Persona

[

]
Persona 2: Innocent Sin

[

]
By leveling up
[
]
With Skill Cards
[
]
Zio can be taught to a Persona by using the following Skill Card in fusion:
Skill Card


Zio Card
Persona 2: Eternal Punishment

[

]
By leveling up
[
]
With Skill Cards
[
]
Zio can be taught to a Persona by using the following Skill Card in fusion:
Skill Card

Zio Card
Persona 3 / FES / Portable

[

]
By leveling up
[
]
With Skill Cards
[
]
In Persona 3 Portable, the protagonists can use a Skill Card to teach Zio to their Personas. It can only be obtained through certain means:
Persona 4 / Golden

[

]
By leveling up
[
]
With Skill Cards
[
]
In Persona 4 Golden, the protagonist can use a Skill Card to teach Zio to his Personas. It can only be obtained through certain means:
| Persona | Method |
| --- | --- |
| Izanagi | Chagall Café |
Persona 5 / Royal

[

]
By leveling up
[
]
With Skill Cards
[
]
The protagonist can use a Skill Card to teach Zio to his Personas. It can only be obtained through certain means:
Persona 5

[

]
Royal

[

]
Enemies
[
]
Encounters
[
]
Shin Megami Tensei V

[

]
Persona 5 / Royal

[

]
Gallery
[
]
Physical Skills
Normal Skills
Lunge - Heat Wave - Berserker God - Deathbound - Mortal Jihad - Hades Blast - Catastrophe
Crusher Onslaught - Megaton Press
Hell Spin
Multi-hit
Bouncing Claw - Scratch Dance - Damascus Claw - Axel Claw - Nihil Claw - Madness Nails - Rampage - Myriad Slashes
Hellish Slash - Aramasa - Astral Saintstrike - Andalucia
Ailment Attacks
Dream Needle - Toxic Sting - Madness Needle - Dark Sword - Blight - Frenzied Chomp - Mist Rush - Headcrush - Terrorblade - Javelin Rain
Fang Breaker - Pierce Armor - Blinding Strike - Somersault - Panta Spane - Pandemonic Crush
Venom Chaser - Dream Fist - Hysterical Slap - Purple Smoke - Pestilence
Critical
Gram Slice - Critical Wave - Fatal Sword - Titanomachia - Brave Blade - Karnak
Critical Slash - Mighty Cleave - Figment Slash
Needle Spray - Steel Needle - Dancing Strike
Acrobat Kick - Yabusame Shot - Hassou Tobi - Deadly Fury
Bestial Bite - Heavy Blow - Severing Bite - Akashic Arts - Carnage Fang - Wrath Tempest - Mac an Luin
Other
Beatdown - Power Punch
Puncture Punch - Hell Thrust - Gungnir - Gaea Rage
Eat Whole
Magic Skills
Fire Skills
Agi - Maragi - Agilao - Maragion - Agidyne - Maragidyne - Agibarion - Maragibarion
Fire Breath - Fire Dracostrike - Ragnarok - Trisagion
Mirage Shot - Ghastfire Rain - Hellish Brand - Megido Flame - Raging Hellfire - Hell Burner
Ice Skills
Bufu - Mabufu - Bufula - Mabufula - Bufudyne - Mabufudyne - Bufubarion - Mabufubarion
Ice Breath - Ice Dracostrike - Glacial Blast - Ice Age
Stormcaller Song - Jack Bufula - Hellish Spurt - King Bufula - Eternal Blizzard - Raging Blizzard - Thalassic Calamity
Electric Skills
Zio - Mazio - Zionga - Mazionga - Ziodyne - Maziodyne - Ziobarion - Maziobarion
Shockbound - Storm Dracostrike - Thunder Reign - Narukami
Souffle D'éclair - Keraunos - Raging Lightning - Ruinous Thunder
Force Skills
Zan - Mazan - Zanma - Mazanma - Zandyne - Mazandyne - Zanbarion - Mazanbarion
Wind Breath - Wind Dracostrike - Floral Gust - Killing Wind
Raging Tempest - Sacrifice of Clay - Hell Exhaust
Light Skills
Hama - Mahama - Hamaon - Mahamaon - Hamabarion - Mahamabarion
White Dracostrike - Light's Descent - God's Bow
Dark Skills
Mudo - Mamudo - Mudoon - Mamudoon - Mudobarion - Mamudobarion
Black Dracostrike - Die For Me! - Toxic Breath - Walpurgisnacht - Fallen Destroyer - Profaned Land
Almighty
Megido - Megidola - Megidolaon - Divine Arrowfall
Life Drain - Spirit Drain - Energy Drain - Sanguine Drain - Meditation
Freikugel - Sakanagi - Murakumo
Madness Glint - Fire of Sinai
Silt of Ruin - Violent Rage - Tandava - Soul Divide - Babylon Goblet - Death Lust
Ailment Skills
Single-target
Dormina - Dustoma - Marin Karin - Poisma - Pulinpa - Makajama - Toxic Spray - Evil Melody
Multi-target
Lullaby - Fogna - Sexy Dance - Toxic Cloud - Tentarafoo - Makajamaon
Frolic - Stagnant Air - Chaotic Will
Slumber Vortex - Preach
Healing Skills
HP Recovery
Dia - Media - Diarama - Mediarama - Diarahan - Mediarahan
Humble Blessing - Diamrita - Miracle Water
Revival
Recarm - Samarecarm - Revival Chant
Ailment Recovery
Patra - Me Patra
Special
Harvest Dance - Golden Apple - Sun's Radiance - Eleusinian Harvest - Matriarch's Love - Light of Order
Support Skills
Timer-based Buffs
Tarukaja - Matarukaja - Rakukaja - Marakukaja - Sukukaja - Masukukaja - Luster Candy - Red Capote - Cautious Cheer
Taunt - Fierce Roar - Witness Me
Timer-based Debuffs
Tarunda - Matarunda - Rakunda - Marakunda - Sukunda - Masukunda - Debilitate
Charging Buffs
Charge - Concentrate - Donum Gladi - Donum Magici
Critical Aura - Impaler's Animus - Bowl of Hygieia
Shields
Tetrakarn - Makarakarn
Phys Block - Fire Block - Ice Block - Elec Block - Force Block - Light Block - Dark Block
Kannabi Veil
Stat Negation
Dekaja - Dekunda
Miscellaneous
Estoma - Trafuri
Passive Skills
Affinity Resistance
Resist Phys - Resist Fire - Resist Ice - Resist Elec - Resist Force - Resist Light - Resist Dark
Null Phys - Null Fire - Null Ice - Null Elec - Null Force - Null Light - Null Dark
Repel Phys - Repel Fire - Repel Ice - Repel Elec - Repel Force - Repel Light - Repel Dark
Drain Phys - Drain Fire - Drain Ice - Drain Elec - Drain Force - Drain Light - Drain Dark
Hellish Mask - Abyssal Mask
Affinity Strength
Phys Pleroma - Fire Pleroma - Ice Pleroma - Elec Pleroma - Force Pleroma - Light Pleroma - Dark Pleroma - Heal Pleroma - Almighty Pleroma
High Phys Pleroma - High Fire Pleroma - High Ice Pleroma - High Elec Pleroma - High Force Pleroma - High Light Pleroma - High Dark Pleroma - High Heal Pleroma - High Almighty Pleroma
Boon Boost - Boon Boost EX
Stat Booster
Life Spring - Great Life Spring - Mana Spring - Great Mana Spring - Beast Eye - Dragon Eye - Bloody Glee - Murderous Glee - Poison Adept - Poison Master
Counter
Counter - Retaliate - Heavenly Counter
HP/MP Recovery
Light Life Aid - Life Aid - Light Mana Aid - Mana Aid
Curse Siphon - Great Curse Siphon - Restore - High Restore
Miscellaneous
Inspiring Leader - Safeguard - Critical Zealot
Magatsuhi Skills
-
Omagatoki: Critical - Omagatoki: Luck - Omagatoki: Pierce - Omagatoki: Sincerity - Omagatoki: Free - Omagatoki: Hit - Omagatoki: Potential - Omagatoki: Doubler - Omagatoki: Savage - Omagatoki: Charge - Omagatoki: Adversity
Expand: Critical Aura - Expand: Piercing Aura - Impaler's Glory
Freikugel EX - Big Bang - Soul Drain
Twilight Wave - Accursed Poison
Eternal Prayer - Sea of Stars - Waters of Youth
Fairy Banquet - Rasetsu Feast - Dekajaon - Shield of God
Miscellaneous
Enemy-exclusive skills
Frenzy - Impetus - Xeros Beat - Falling Star - Heliopolis Dawn - Inferno of God - Magma Axis - Purgatorium - Hailstorm of God - Moonlight Frost - Dreadful Gleam - Galvanic Slash - Lightning of God - Lightning Pulse - Rising Storm Dragon - Tornado of God - Babylon Curse - Morning Star - Evil Gleam - Wild Dance -

Cold Dark Matter

-

Hot Dark Matter

-

Holy Crucifixion

- Contempt of God - Electrify - False Replication - Mesektet's Path - True Replication - Call Allies
Physical
Weapon
1-hand Sword
Twin Slash - Heat Wave - Deathbound
2-hand Sword
Ichimonji Slash - Wolf Fang - Triple Slice
Spear
Double Thrust - Dragon Whirl - Burning Spear
Axe
Flurry Stab - Destruction Smash - Earth Slicer
Whip
Love Whip - Infinite Spiral - Moon Shatterer
Fist
Twinkle Punch - Fist of Fury - Deadly Fist
Thrown
Fastball - Darkness Nail - Sonic Bullet
Arrow
Rapid Fire - Myriad Arrows - Arrow Volley
Firearm
Handgun
Single Shot
Machinegun
Drive Shot - Middle Shot
Shotgun
Powder Shot
Rifle
Long Shot
Other
Tech
Feral Claw - Genocide Fan - Spin Kick - Thunder Kick - Poison Claw - Stun Claw - Virus Claw - Stone Claw - Needle Rush - Toxic Sting - Stun Needle - Lightning Kick
Rush
Feral Bite - Beak - Wing Flap - Dive - Spike Claw - Death Claw - Venom Bite - Stun Bite - Virus Bite - Stone Bite - Squash - Tackle - Bonecrusher - Heavenly Hit - Megaton Raid
Special
Dissolvent - Sweet Trap - Drumroll Punch - Rainbow Strike - Viper Smash - Last Resort - Binal Strike - Self Destruct
Magic
Element
Fire
Agi - Agilao - Agidyne - Maragi - Maragion - Maragidyne
Crimson Sublation - Azure Cessation - Fire Breath
Ice
Bufu - Bufula - Bufudyne - Mabufu - Mabufula - Mabufudyne
Gentle Wave - Mighty Wave - Ice Breath
Wind
Garu - Garula - Garudyne - Magaru - Magarula - Magarudyne
Earthly Vortex - Heavenly Cyclone
Earth
Magna - Magnara - Magnadyne - Mamagna - Mamagnara - Mamagnadyne
Hell Drop - Gokuraku Fall
Force
Electrical
Zio - Zionga - Ziodyne - Mazio - Mazionga - Maziodyne
Shuuraigeki - Sanraigeki
Nuclear
Frei - Freila - Freidyne - Megido - Megidola - Megidolaon
Gravity
Gry - Gryva - Grydyne - Magry - Magryva - Magrydyne
Blast
Zan - Zanma - Zandyne - Mazan - Mazanma - Mazandyne
Western Blow - Eastern Impact
Light
Expel
Hama - Hamaon - Mahama - Kouha - Baikouha - Makouha
Miracle
Recarm - Samarecarm - Recarmdra
Alpha Blaster - Eternal White - Bright Judgement
Bless
Dia - Diarama - Diarahan - Media - Mediarama - Mediarahan
Patra - Pen Patra - Posumudi - Paraladi - Petradi - Nervundi

Prayer

Tarukaja - Rakukaja - Sukukaja - Makakaja - Tarunda - Rakunda - Sukunda - Dekaja - Dekunda
Tetraja - Tetrakarn - Makarakarn
Dark
Death
Mudo - Mudoon - Mamudo - Eiha - Baeiha - Maeiha
Hell Eyes - Petra Eyes - Paral Eyes - Guilt Eyes - Terror Eyes - Passionate Kiss - Demon's Kiss - Evil Smile - Deathtouch
Curse
Omega Cluster - Eternal Black - Dark Verdict
Deathtika - Petrama - Paralama - Poisma - Nervma
Nerve
Shibaboo - Decover - Dormina - Pulinpa - Hapirma - Marin Karin - Makajam - Delyte - Slumpa - Desanga
Sexy Dance - Happy Dance - Hula of Misfortune - Tango of Dispelling - Waltz of Sadness - Lullaby - Panic Voice - Bind Voice - Frenzy Song - Candy Voice - Poison Breath - Fog Breath
Occult
Balzac - Doroid - Doronpa - Mador - Quikka - Wolvaan
Other
Support
Estoma - Outoma - Liftoma - Traesto - Alsanga
Assist
Water Wall - Fire Wall - Steel Wall - Crystal Wall - Luna Trap
Anti-Boss
Hieroglyphein
Boss-only
Paralyze Puncture - All Guard - Butterfly Storm - Symphony of Lament - Derangement Voice - Dark Slumber - Revenge Leak - Absolute Zero