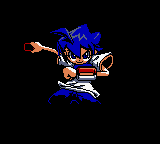 Yuuji Kino (雄二キノ) is the protagonist of Shin Megami Tensei Trading Card: Card Summoner.
Appearances
Edit
Shin Megami Tensei Trading Card: Card SummonerEdit
His name, like all protagonists, can be changed by the player. He is a 14 year old boy who yearns to become the new world champion of the trading card game "Victory Battle," where the player summons monsters from cards. Yuuji lives in the East District of Tokyo with his mother and older sister Samantha Kino. As he grew and matured, he would watch his sister play Victory Battle. When he witnesses the defeat of his sister by Master Karl, he promises to himself that he will defeat Master Karl to bring peace to Samantha.
Path to VictoryEdit
After persuading Samantha to teach him the rules of the game, Yuji enters in the Card Championship for the chance to defeat Master Karl. During the championship, a girl named Yuri Takano shows some interest in Yuuji and helps him to reach the Finals. His sister Samantha, who secretly entered the championship, tries to stop him from suffering a drastic defeat at the hands of Master Karl. Yuri offers to battle with Samantha, and the encounter ends in a draw, giving Yuuji the chance he was waiting for. During the battle with Master Karl, Yuuji is warned by him that should he win, a series of calamities would reach the world. Karl is defeated, and Yuuji is declared as the new champion.
Friend or Foe?Edit
As the new champion, Yuuji fulfilled his promise to Samantha and his dream of becoming the champion. In response to Yuri's help, Yuuji falls in love with her, and they start to date. Some months later, Yuuji discovers that his girlfriend is being hunted down by a group calling themselves the "Devil Busters," which plans to steal Yuri's ability to cast magic. After learning this, Samantha joins the Devil Busters, in order to take revenge on Yuri for her previous defeat in the championship. If the player chooses to help Yuri, he'll have to defeat Samantha. Otherwise, Yuri is killed and the game ends.
Community content is available under
CC-BY-SA
unless otherwise noted.