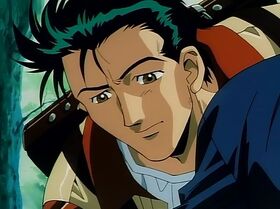 Yousuke Miura (三浦陽介) is a character in Tokyo Revelation. He is voiced by Toshiyuki Morikawa in the Japanese version.
Appearances
Edit
Yousuke is introduced as Kojiro Souma's close friend and fellow second-year student at Kichijouji Seijou Gakuen and head of the school's newspaper. He's quick to judge and is immediately not fond of Akito Kobayashi's interest in his girlfriend, Saki Yagami. He does his best to try and protect her when they're attacked by kobolds while returning from a friend's wake, but is knocked unconscious by them. During Kojiro's fight with Ose, he learns Ose's flow of Magnetite must be stopped and searches for the source. When he does, he discovers Akito standing over Saki's body. In a rage, he attacks the other until Kyouko Shibusawa stops him.
In the manga, he grows frustrated with his weakness and inability to protect Saki. Thanks to this, he joins the Cult of Gaia and becomes a magic sword wielder.
Community content is available under
CC-BY-SA
unless otherwise noted.