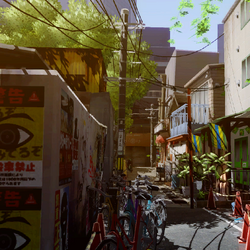 Yongen-Jaya (四軒茶屋*)? is a location in Persona 5.
Yongen-Jaya is based on Setagaya (世田谷区*)? in Tokyo. Setagaya is known as one of the heavily populated residential districts in Tokyo.
Yongen-Jaya is one of first three movable areas on Tokyo map at the beginning of the game, and one of its major locations, where Sojiro Sakura's Café Leblanc and his house are located. It's also the center of several shops and activities, such as Tae Takemi's Takemi Medical Clinic, a supermarket, a second-hand shop and a sweet potato vendor, a public bathhouse and a batting center.
Yongen-Jaya is not a real location in Japan, but rather a reference to Sangen-Jaya Station (三軒茶屋), a real life Tokyo station located in Setagaya. The first kanji of Yongen-Jaya, which refers to the number four, is the next numeric kanji after Sangen-Jaya.
Community content is available under
CC-BY-SA
unless otherwise noted.