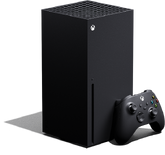 The Xbox Series X and Xbox Series S (collectively, the Xbox Series X/S) are the fourth generation of home video game consoles developed by Microsoft and the successors to Xbox One. They were both released on November 10, 2020.
In terms of differences, the Xbox Series X has improved hardware capabilities, while the Xbox Series S is a more compact version of the console, with reduced hardware capabilities and lacks an optical disc drive, focused on downloading games digitally.
The Xbox Series X/S have backwards compatibility support for games from previous Xbox consoles.
Titles
This section only includes games directly ported to the Xbox Series X/S. For a list of supported games from the Megami Tensei franchise from Xbox 360, see Xbox 360 → Titles.
Gallery