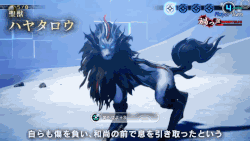 Witness Me (某を見よ, Soregashi wo Miyo)? is a Support skill. It is one of Hayataro's signature skills.
Effect
[
]
Witness Me boosts the user's odd of being targeted by enemies, and raises their Accuracy & Evasion by 2 ranks. The effects of both last 3 turns.
The timer of the user's Accuracy/Evasion buff can be extended by Boon Boost and Boon Boost EX, although the timer of the user's taunt cannot be changed.
Etymology
[
]
"Soregashi" (某*)? is an archaic first person pronoun mostly used by samurai which gave the impression of humbleness.