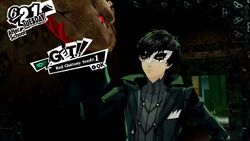 Will Seeds (イシ, Ishi)? are collectibles introduced in Persona 5 Royal.
Appearances
Edit
Persona 5 Royal
Edit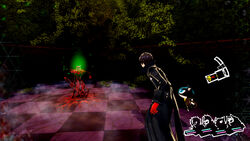 According to Morgana, Will Seeds are coalesced distortions of the Palace Rulers. There are 8 sets of 3 Will Seeds. 3 seeds in each Palace. Each Seed is distinguished by their color, coming in red, green and blue. When all 3 from a single Palace are collected, they will then combine into a Crystal, a Skill Accessory granting useful perks.
When visiting Jose and his shop in Mementos, he can upgrade the Crystals into a Ring. However, he can only do this if their respective Palace has been destroyed, as it's still tied to its distortions. This applies to New Game Plus as well - aside from the Crystal of Sorrow, if the Crystals of the second to seventh Palaces haven't been converted to Rings in the previous play through, Jose will be unable to upgrade them. Jose will also sell missing will seeds from the prior palace for 400 flowers.
The Blue Will Seeds are always defended by a mid-boss. This mid-boss almost always has very high stats and their attacks are usually way above the party's management level. Some of them also have attacks that they do not have when normally encountered out of this specific encounter. Make sure to disable them with status conditions and hit them with Technical if possible.
Skill Accessories
Edit
Will Ring
Skill
Active Effect
Cost
Passive Skill
Passive Effect
Ring of Lust
Champion's Cup
Restores med amount of HP and increases Attack for one ally for 3 turns.
10 SP
Ring of Vanity
Bleeding Dry Brush
Forms a barrier that can absorb one attack (except Almighty).
22 SP
Brush of Vanity
Nullifies wearer's weaknesses.
Ring of Gluttony
Vault Guardian
Increases Defense for all allies for 3 turns.
20 SP
Vault Guardian
Automatic Tetrakarn/Makarakarn at the start of battle.
Ring of Wrath
Wings of Wisdom
Cures all non-special ailments for all allies.
10 SP
Speed Master
Automatic Sukukaja at the start of battle.
Ring of Greed
President's Insight
Multiply one ally's next magical attack damage by 2.5.
15 SP
Attack Master
Automatic Tarukaja at the start of battle.
Ring of Envy
Gambler's Foresight
Increases Agility for all allies for 3 turns.
20 SP
Gambler's Foresight
Automatic Concentrate at the start of battle.
Ring of Pride
Tyrant's Will
Multiply one ally's next Physical or Gun attack damage by 2.5.
15 SP
Defense Master
Automatic Rakukaja at the start of battle.
Ring of Sorrow
Guiding Tendril
Down all foes. Only usable during preemptive attack.
40 SP
Life Aid
Recover 8% HP and SP after victory.
An unused scene in the coding of the game has the protagonist attempting to sell a Will Seed to Munehisa Iwai. He rejects it due to its sinister looks and redirects him to the shady item trader in Kichijoji. (Who never requests to trade Will Seeds.)
Community content is available under
CC-BY-SA
unless otherwise noted.