This article is in need of more information.
Help improve it by adding in what you know, or look at the request below for specific details.


Suggestions: stats info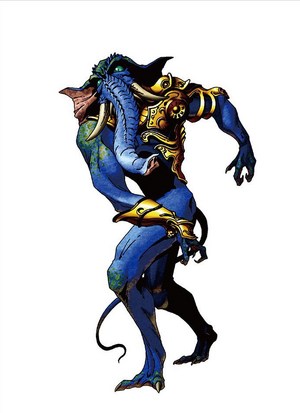 Vetala (ヴェータラ, Veetara) is a recurring demon in the series.
History
In Hindu folklore, the vetala is an evil spirit who haunts cemeteries and takes demonic possession of corpses. They make their displeasure known by troubling humans. They can drive people mad, kill children, and cause miscarriages.
Appearances
Profile
Persona 3
One of Elizabeth's requests is to create a Vetala that has inherited the spell Maragi. This can be a difficult task as Vetala is stubborn about inheriting elemental magic. Fusing a Pyro Jack with a Chimera can result in a Vetala with the skill Maragi.
Stats
Persona 3
| Inherit | Resists | Block | Absorbs | Reflects | Weak |
| --- | --- | --- | --- | --- | --- |
| Bad Status | Fire | Dark | None | None | Wind, Light |
Persona 4
| Inherit | Resists | Block | Absorbs | Reflects | Weak |
| --- | --- | --- | --- | --- | --- |
| Ailment | Wind, Darkness | None | None | None | Fire |
Skills
Persona 4
| Skill | Effect | Cost | Level |
| --- | --- | --- | --- |
| Foolish Whisper | 25% chance of inflicting the Silence ailment on all enemies. | 10 SP | Innate |
| Evil Touch | 25% chance of inflicting the Fear ailment on one enemy. | 5 SP | Innate |
| Life Drain | Drains 30 HP from one enemy. | 3 SP | 20 |
| Foul Breath | Increases susceptibility to ailments. (single enemy) | 5 SP | 21 |
| Brain Shake | Inflicts a small amount of Physical damage 1x-3x with a chance of Exhaustion on one enemy. | 12% HP | 22 |
| Ghastly Wail | Instantly kills all targets who are suffering from the Fear ailment (unavoidable). | 15 SP | 23 |
| Fear Boost | Fear-based attacks are 1.5 times more effective. | Passive | 24 |