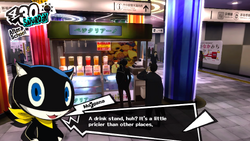 "A drink stand, huh? It's a little pricier than other places. If they have special drinks, it may not be a bad idea to try one..."
Vegetariano is a location in the series.
Appearances
[
]
Profile
[
]
Persona 5

[

]
Vegetariano is a drink stand found in Shibuya's Underground Walkway. Every Sunday, the protagonist can buy an Aojiru drink for ¥5,000, without passing time. One drink is offered every time. Each drink boosts a specific Social Stat by one note. Chihaya's Luck Reading multiplier works here.
If the protagonist does buy the drink, the next offer will change via rotation; if he does not buy it, the current drink will be the same the next week. The drinks rotate in this order:
| No. | Name | JP Name | Description | Social Stat |
| --- | --- | --- | --- | --- |
| 1 | Beauty Aojiru | 美肌青汁 | Blended with collagen, making you radiant with charm. | Charm |
| 2 | Vitality Aojiru | 活性青汁 | Made from seaweed minerals to revitalize you, making you more proficient. | Proficiency |
| 3 | Nasty Aojiru | 極苦青汁 | Made with bitter melon. It takes guts to drink this terrifying mixture. | Guts |
| 4 | Onsen Aojiru | 温泉青汁 | Made using hot spring water. You can feel the kindness within you. | Kindness |
| 5 | Seafood Aojiru | 魚介青汁 | Rich with omega-3 fatty acids to increase your knowledge. | Knowledge |