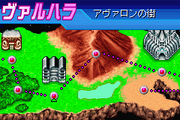 Valhalla (ヴァルハラ, Varuhara)? is a recurring term in the series.
Valhalla, meaning Hall of the Slain, is a majestic, enormous hall located in Asgard, ruled over by the god Odin. Chosen by Odin, half of those who die in combat travel to Valhalla upon death, led by Valkyries, while the other half go to the goddess Freya's field Fólkvangr.
Valhalla is described as shining and golden, and that it "rises peacefully" when seen from afar. Valhalla has spear-shafts for rafters, a roof thatched with shields, coats of mail are strewn over its benches, a wolf hangs in front of its west doors, and an eagle hovers above it. Further details say that Valhalla's holy doors of the ancient gate Valgrind stand before it, Valhalla has five hundred and forty doors that eight hundred men can exit from at once. Within Valhalla exists Thor's hall Bilskirnir, and within it exist five hundred and forty rooms, and of all the halls within Valhalla, Odin himself states that his son's may be greatest.
In Valhalla, the dead join the masses of those who have died in combat known as Einherjar, as well as various legendary Germanic heroes and kings, as they prepare to aid Odin during the events of Ragnarök. Before the hall stands the golden tree Glasir, and the hall's ceiling is thatched with golden shields. Various creatures live around Valhalla, such as the stag Eikþyrnir and the goat Heiðrún, both described as standing atop Valhalla and consuming the foliage of the tree Læraðr.
The Valhalla Corridor is the third dungeon of the game, reached from the bottom floor of the Tower of Daedalus and connected to the Mazurka Corridor. It can also be accessed from Bien. Its boss is Loki.
Valhalla is a section of Tokyo Millennium, run by Madam. The hero helped it expand. It is later devoured by Abaddon on Michael's orders.
Shin Megami Tensei IMAGINE

[

edit

|

edit source

]
Valhalla is the second Versus mode. When at least six players have joined the queue, a countdown begins before they are transported to the Colosseum area and divided into teams. Unlike the other form of Versus in IMAGINE, this is a direct battle between players and does not take a player's alignment into account when sorting, instead focusing on a player's past Versus performance.
The goal in Valhalla is to be the first team to reach 15 points before the timer runs out. Killing an opposing player gains a team two points. Killing an opposing demon gains a team one point.
Valhalla is Fusion Spell used by combining powers of Valkyrie and Odin, the player becomes invulnerable to any attack, but reduces HP to 1 after 1 turn.
Valhalla is the name of the place to which the main trio from Devil Children: Light & Dark (Anime) travel.
Valhalla is the realm created by Darklord and Lord Light to be a utopia long ago. It is currently ruled by the Imperius Empra and Empio, who rule over the humans and peaceful demons with an iron fist, which led to the creation of the Rebels who oppose the Imperium.
Devil Children Fire/Ice Book

[

edit

|

edit source

]
At the beginning of Ice Book Amy Kashihara reveals that Valhalla has been destroyed before the game began, where Angels and Demons suddenly appeared and began Armageddon.
Devil Children Messiah Riser

[

edit

|

edit source

]
Valhalla is once again under attack by the Imperium and the Devil Children first start their journey here after Amy meets them and tells of what happened.
Community content is available under
CC-BY-SA
unless otherwise noted.