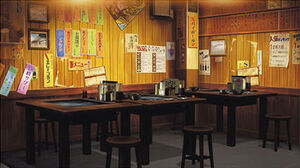 Tsukishima (月島*)? is a location in Persona 5.
Tsukishima is based on the real location in Chūō, Tokyo, Japan. It is known for its large number of restaurants serving the local specialty monjayaki, which is a type of Japanese pan-fried batter.
Tsukishima is where a monjayaki restaurant is located as one of the hangout spots on the Tokyo map. It is unlocked after the Chariot Confidant reaches Rank 7. In the evening, Ryuji Sakamoto and the protagonist go there to spy on Yamaguchi and record his conversation with another teacher about the plans regarding the track club. This location can be visited to increase Confidant rank points. Confidants that can be brought here are Ryuji, Yusuke Kitagawa, Haru Okumura and Tae Takemi.
In the anime adaptation of the game, the role of the monjayaki restaurant is almost the same, but Ren didn't record Yamauchi's conversation and Ryuji stayed outside instead of hiding in the bathroom.
Community content is available under
CC-BY-SA
unless otherwise noted.