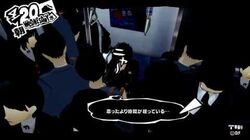 The train is a mechanic in the series.
Overview
Travelling
The train system allows the protagonist to travel around numerous locations in Tokyo. He will have to pay a small fee each time he switches between a different area outside of Yongen-Jaya, Shibuya and Aoyama-Itchome due to the limitations of his transit pass.
If protagonist is unable to pay the train fee to return back home at Yongen-Jaya, Morgana will use his secret savings to help him pay the needed amount to travel.
Free Seats
On certain days, the protagonist will be able to take a free seat on his commute to school. On these occasions, he'll be able to read a book. These events serve as an additional time slot, separate from the usual Daytime or Evening periods. The dates the protagonist takes a seat differ between Persona 5 and Persona 5 Royal.
The ability to find free seats is first demonstrated on April 16th, but the protagonist cannot read at that time.
Date
Games
P5
P5R
April 20
✘
✔
April 25
✔
✔
April 30
✔
✔
May 21
✔
✔
May 24
✔
✔
May 30
✔
✘
June 3
✔
✔
June 15
✔
✔
June 21
✔
✘
June 23
✘
✔
July 1
✔
✔
July 4
✔
✔
July 8
✘
✔
September 24
✔
✔
September 28
✔
✔
October 6
✔
✔
November 2
✔
✔
November 5
✔
✔
November 10
✔
✔
November 14
✔
✔
November 17
✔
✔