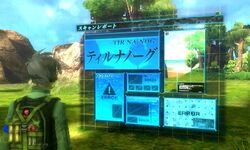 Tir na Nog (ティルナノーグ, Tirunanougu)? is a location in the series.
History
[
]
The Tír na nÓg (Land of the Young), or the Tír na hÓige (Land of Youth), translated as the Tir na Nog, is the homeworld of the Tuatha De Danaan in Celtic myth. It is one of the names for the Celtic Otherworld, or perhaps for a part of it.
Tír na nÓg is best known from the tale of Oisín and Niamh. Tír na nÓg is depicted as an island paradise and supernatural realm of everlasting youth, beauty, health, abundance and joy. Its inhabitants are described as the Tuatha Dé Danann who engage in poetry, music, entertainment and the feast of Goibniu, which grants immortality to the participants. In adventure and voyage tales, various mythical heroes visit Tír na nÓg after a voyage or an invitation from one of its residents.
They reach it by entering ancient burial mounds or caves, by journeying through a mist, by going under water, or by traveling across the sea for three days on an enchanted boat or Manannán's horse. The tales of mortals who visit the otherworld are referred to as adventures and ecstasies. The path across the sea is called Mag Mell (Plain of Honey), a golden path made by the sun on the ocean.
Other Old Irish names for the otherworld include Tír Tairngire (Land of Promise/Promised Land), Tír fo Thuinn (Land under the Wave), Mag Mell (Plain of Delight/Delightful Plain), Ildathach (Multicoloured Place) and Emain Ablach (the Isle of Apple Trees). Similar myths in the northern Celtic cultures include these of Annwn, Fairyland, Avalon and Hy Brasil.
Appearances
[
]
Profile
[
]
Shin Megami Tensei IV Apocalpyse

[

]
Tir na Nog is the Domain Dagda creates for Nanashi for the various grinding DLC Challenge Quests. The Plains and Coast area is filled with Celtic demons and Mitamas. The normal enemies drop and trade Grimoires, high-macca items, point cards or incense, depending which quest is being undertaken. Rather than defeating enemies and hoping for item drops, using the Trade talk skill is far more efficient, as it can be used repeatedly during the same battle, giving items every time Nanashi gets a turn. Every Mitama can be encountered in each quest, so it is possible to farm all items in any one quest, however it is tedious to do so since the other Mitamas besides the one dropping the items specific to that quest are rarer encounters. The Mitama primarily have the following items:
A later DLC quest also takes place in Tir Na Nog in the guise of Hawaii, featuring beach events and battle against Mephisto.
DemiKids Light/Dark Version

[

]
Known as Tyrnanog it is the castle of Empio and Empra the Imperius of the Imperium in Valhalla.
Devil Children Messiah Riser

[

]
The ruins of Tir na Nog is visited on Jin's route, where Behemoth stands watch as the boss.
List of Enemies
[
]
Shin Megami Tensei IV Apocalypse

[

]
Gallery
[
]