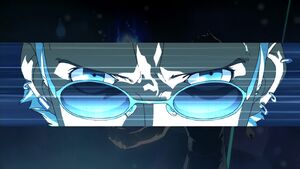 "Time for True Revelation" is the song that plays in Persona 4 The Animation. It plays during Kanji Tatsumi's first summoning of his Persona, Take-Mikazuchi at Episode 10: Real Me Doesn't exist. It also plays during the battle of Shadow Naoto in Episode 17: I Want to Know the Truth.
Rise up!
Hands up!
Rise up!
Get down!
Hands up!
Put 'em up!
Right! Now!

I'm never lookin' down, always lookin' fresh
What do you want me to do, yeah
Hit that bullseye when I shoot.
Wait a sec, making the next for waking the dead
I'm painting the set, starring you
Ambitious, come on over ride with me
But haters got them chainsaws in their words, so absurd
So I throw that stabbing flow like shuriken, afterworld
They call me airplane 'cuz my flow is so fly
And elevating with my people my kinda high

Rise up!
Get down!
Hands up!
Put 'em up!
Right! Now!

They say I flow like I'm the main event of show.
Better yet L to the J man who I am
Epicenter of flow man
I'm always head on tight with beats like with my girlfriend
Sometimes it's a headache but making dope bounce-bounce man
(Stop now)
Take the hate, exchange it like rate
Emotions viral, so idle but I know it can grow to irate
iBreak
Just might be the new app in your smartphones.
Fraudulence, my flows just gonna break your lies
Don't fake

Rise up!
Get down!
Hands up!
Put 'em up!
Right! Now!

Can't run away from world of lies
Filled with misery
And will it catch you?
No more makin' up fake stories
It is time for
The true revelation
No you can't just get away
Gotta face it first
Then you win over it
Everything you do came back to you
Don't be afraid to stand
Stop their lies and rise up now
Community content is available under
CC-BY-SA
unless otherwise noted.