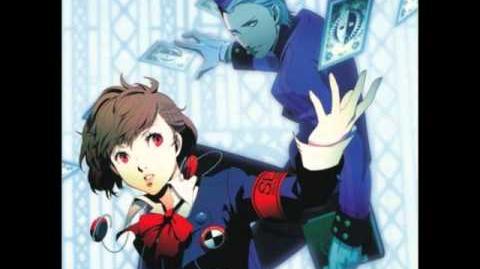 "Time" is a song featured in Persona 3 Portable. Composed by Shoji Meguro and written by Reiko Tanaka, it is the fourth track in the Persona 3 Portable Original Soundtrack. The song is played by the female protagonist in her first semester of Gekkoukan High School. Two instrumental variations of this track named "After School" (which is mashed up with an instrumental version of Soul Phrase) and "Tender Feelings", are used for some of her Social Link events.
A remix created by Atsushi Kitajoh was released on Persona 3: Dancing in Moonlight.
Time
Old dry winds go by
Lone air comes quietly
Time
Old dry winds go by
Uncertain space you need to fill in
Every time goodbye to yesterday
Greeted by today
Smiling to tomorrow
No one really belongs
Each time we hope to stay around
I know how you feel
Beyond your walls.
Kitajoh Remix Lyrics
Edit
Time
Time Old dry winds go by
Lone air comes quietly
Time Old dry winds go by
Uncertain space you need to fill in
Every time goodbye to yesterday
Greeted by today
Smiling to tomorrow
No one really belongs
Each time we hope to stay around
I know how you feel
Beyond your walls
Time
Time
Old dry winds go by
Lone air comes quietly
Time Old dry winds go by  Uncertain space you need to fill in
Every time goodbye to yesterday
Greeted by today
Smiling to tomorrow
No one really belongs
Each time we hope to stay around
I know how you feel
Beyond your walls
Every time goodbye to yesterday
Greeted by today
Smiling to tomorrow
No one really belongs
Each time we hope to stay around
I know how you feel
Beyond your walls