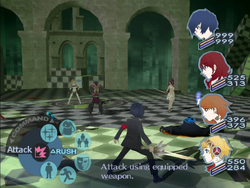 Thebel (世俗の庭テベル, Sezoku-no niwa Teberu)? is the first block of Tartarus in Persona 3.
Profile
Thebel is available for exploration from the beginning. It has 15 floors that go from 2F to 16F. The preset floors are 5F, 10F and 14F. Visually, it is bathed in dark green shades with checkerboard, blood-stained floors. The battlefield features additional stone arches.
"Thebel"/"Tevel" (תֵּבֵל) means "world" in Hebrew.
Shuffle Time Persona
Shadows
Note:
* A White box denotes a rare Gold Shadow.
Guardians
Items of Interest
Gallery