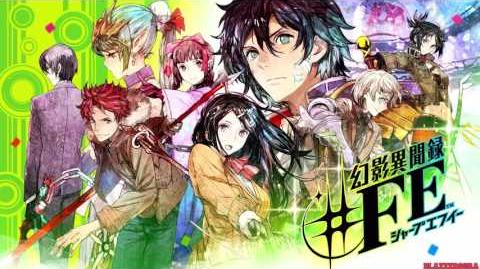 The Labyrinth is one of Kiria's main songs in Tokyo Mirage Sessions ♯FE. It also sung by Kiria's voice actor, Yoshino Nanjo.
Lyrics
Japanese
Romaji
Tachidomaru koto nante
kangae mo shi nakatta
nagasareru no wa iya de
iji o hatte te
shinjite ta jibun rashi sa
mamoro u to suru hodo
hitori kiri ni natte ku
watashi ga i ta
yowa sa na nde zettai ni
mise nai tte omotta kedo
doushite na no? wakara nai yo
mayoikon da meiro de hitori ni naru
oshika shi tara zutto dare ka ni
mitome te hoshikatta dake na no ka na?
sou kizukihajime ta yo watashi
minna to tada waratte i tai dake dakara
honto no jibun mada
mitsukerare naku te
koko ja nai doko ka ni
iru hazu datte
demo yatto mie te ki ta
chisana hikari wa
sagasu no o yame ta toki
miehajime ta
arinomama de nante
uso datte omotta kedo
motto tsuyoku nare ba itsuka
aru beki watashi ni nareru n da to
shinji te i ta demo hito wa mina
yowa sa o mitome te
tsuyoku nareru
sou kizukihajime ta yo watashi
dare ga no yasashi sa ni fure ta toki ni
tashika ni
doushite na no? wakara nai yo
mayoikon da meiro no deguchi wa nai
moshika shi tara watashi hitori
kabe o tsukutte ta dake na no ka na
arinomama de ire ba itsumo
aru beki watashi ga koko ni iru to
shinji te mata atarashii yume o
seiippai egakidase ba ii
sou kizukihajime ta yo watashi
minna to tada waratteru mirai o
yumemi te
English
I just looked ahead, and never turned back,
I didn't need the hesitation
Ignore all my doubts, close off my mind,
Out from the congregation
But the more I protect who I am inside
Or who I believed I was
I feel them drift farther away, lost in loneliness
Never falter, and don't be weak
And in my head, that was all I could be
Oh what is happening?
I just don't understand
I'm all alone and lost inside this maze that feels so wrong
Accept me please, someone, for who I really am
Maybe that's the only thing I wanted all along
And now, finally I can begin to realize
Because I just want to share that smile I see in their eyes
Nothing else