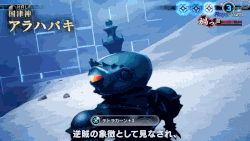 Tetrakarn (テトラカーン, Tetorakān)? is a Prayer skill.
Effect
This topic is in need of research for the following reasons:
* Does Tetrakarn protect against specifically Physical or Strength-based attacks? e.g. Freikugel & the Dracostrike series in SMT5, which are Strength-based Magic attacks.
* What happens to the attack when both the target and the user have Tetrakarn, or if the enemy repels the affinity of the attack?
* How do Multi-hit skills interact with Tetrakarn? Does only the first hit get reflected, or do all of them do?


This can be discussed on the article's talk page.
In the Shin Megami Tensei franchise, Tetrakarn creates a barrier on all allies that lasts for a single turn, which protects them from physical attacks, subsequently reflects them back to the attacker, and costs the attacker all of their Turn Press icons in games that use the Press Turn system.
In the Persona series, Tetrakarn erects a barrier on 1 ally, which protects them from 1 physical attack, and subsequently reflects it back to the attacker.
Skillset
Party Members
By leveling up
By special means
Demons
Megami Ibunroku Persona
Persona 2: Innocent Sin
By leveling up
With Skill Cards
Tetrakarn can be taught to a Persona by using the following Skill Card in fusion:
Skill Card

Attack Mirror Card
Persona 2: Eternal Punishment
By leveling up
With Skill Cards
Tetrakarn can be taught to a Persona by using the following Skill Card in fusion:
Skill Card


Anti-Force Card
Persona 3 / FES / Portable
By leveling up
With Skill Cards
In Persona 3 Portable, the protagonist can use a Skill Card to teach Tetrakarn to his Personas. It can only be obtained through certain means:
Persona 4 / Golden
By leveling up
With Skill Cards
In Persona 4 Golden, the protagonist can use a Skill Card to teach Tetrakarn to his Personas. It can only be obtained through certain means:
Persona 5 / Royal
By leveling up
Enemies
Encounters
Persona 5 / Royal