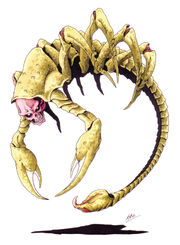 Tammuz (タムズ?) is a demon in the series.
Sumerian god of food, shepherds, and vegetation and consorts of the fertility goddess Innana, or Ishtar. In myth, Inanna invaded the underworld to take it over from her sister, and was turned into a corpse as punishment. Tammuz and his sister, Geshtinana, agreed to both stay dead each for six months of the year to take Inanna's place in the netherworld.
Appearances
Edit
Shin Megami TenseiEdit
"Origin: Spain. A monstrous scorpion of Spain. He is also the Babylonian god of plants. He is Ishtar's brother and husband, whose name means 'Loyal son.' He is also known as a god of irrigation, and he is constantly dying and being reborn."
—Shin Megami Tensei A-Mode DDS Dictionary
Megami TenseiEdit
Megami Tensei IIEdit
| Stamina | Intelligence | Attack | Agility | Luck | Defense |
| --- | --- | --- | --- | --- | --- |
| 13 | 7 | 13 | 11 | 8 | 9 |
Kyūyaku Megami TenseiEdit
Megami TenseiEdit
| Race | Level | HP | MP | VIT | INT | STR | SPD | LUC | DEF |
| --- | --- | --- | --- | --- | --- | --- | --- | --- | --- |
| Kaijuu | 18 | 85 | - | 9 | 8 | 9 | 8 | 8 | 11 |
Swd
Gun
Fir
Ice
Elc
Exp
For
Bnd
Crs
Nrv
Mnd
-

6

/

8

6

/

8

5

/

8

6

/

8
-

7

/

8

6

/

8

6

/

8

3

/

8
-
List of Spells

Skill
Cost
Effect
Poison Fang
Extra
Damage + Poison one enemy
Megami Tensei IIEdit
| Race | Level | HP | MP | VIT | INT | STR | SPD | LUC | DEF |
| --- | --- | --- | --- | --- | --- | --- | --- | --- | --- |
| Beast | 28 | 186 | - | 13 | 7 | 13 | 11 | 8 | 9 |
Swd
Gun
Fir
Ice
Elc
Exp
For
Bnd
Crs
Nrv
Mnd
-

6

/

8

6

/

8

5

/

8

6

/

8
-

7

/

8

6

/

8

6

/

8

3

/

8
-
List of Spells

Skill
Cost
Effect
Poison Fang
Extra
Damage + Poison one enemy
Shin Megami TenseiEdit
| CP | NOA | ATK | ACC | DEF | EVA | M.ATK | M.EFC |
| --- | --- | --- | --- | --- | --- | --- | --- |
| 21 | 1 | 81 | 19 | 51 | 15 | 8 | 7 |

| | | |
| --- | --- | --- |
| St | 20 | |
| In | 6 | |
| Ma | 7 | |
| Vi | 19 | |
| Ag | 14 | |
| Lu | 11 | |
| | | | |
| --- | --- | --- | --- |
| Resistances | Weak to Guns and Fire | Drop | Poison Arrow |
Swd
Gun
Fir
Ice
Elc
For
Nrv
Exp
Crs
Mgc
Bnd
Chg
Dex
Ndl
Alm
-
1.5×
1.5×

7

/

8
1.5×
-
-
Nu
-

7

/

8
-

6

/

8
-
1.5×
-
List of Skills

Skill
Cost
Effect
Paraladi
6 MP
Cures one ally of Paralysis.
Critical
Extra
Delivers a mighty blow against one enemy. (Dex-type)
Stun Needle
Extra
Shoots a needle at an enemy and Paralyzes it. (Needle-type)
Last BibleEdit
| Level | HP | MP | NOA | DEF | STR | INT | END | SPD | LUC |
| --- | --- | --- | --- | --- | --- | --- | --- | --- | --- |
| 6 | 24 | 20 | 1 | | 5 | 9 | 7 | 5 | 9 |
List of Skills

Skill
Cost
Effect
Freeze
2 MP
Weak Ice damage to 1 enemy
Ice 1
5 MP
Ice damage to a group of enemies
Last Bible IIIEdit
| Level | HP | MP | ATK | DEF | STR | INT | END | SPD | LUC |
| --- | --- | --- | --- | --- | --- | --- | --- | --- | --- |
| 25 | 224 | 83 | 78 | 37 | 14 | 12 | 16 | 13 | 10 |

| | | | |
| --- | --- | --- | --- |
| Equipment | Arms, Armor, Accessory | Card Location | Thracia Police - Fusion Shop |
Majin TenseiEdit
| Race | Level | HP | MP | Mv Range | Mv Type | Atk Type | CP |
| --- | --- | --- | --- | --- | --- | --- | --- |
| Beast | 22 | 232 | - | 8 | Forest | | 6 |

| Strength | Magic | Technique | Defense | Agility | Luck |
| --- | --- | --- | --- | --- | --- |
| 12 | 7 | 9 | 8 | 8 | 7 |
Giten Megami Tensei: Tokyo MokushirokuEdit
| Race | Alignment | Level | HP | MP | CP |
| --- | --- | --- | --- | --- | --- |
| Beast | Neutral-Neutral | 48 | 5100 | 900 | 63 |

| Intuition | Will Power | Magic | Intelligence | Divine Protection |
| --- | --- | --- | --- | --- |
| 36 | 18 | 20 | 15 | 26 |

| Strength | Stamina | Agility | Dexterity | Charm |
| --- | --- | --- | --- | --- |
| 61 | 51 | 40 | 11 | 17 |