Everyone's favorite ambassador of love and peace is female, thank you very much. And don't you ever forget it. 68.14.88.194 19:16, October 11, 2010 (UTC)
Is there anything saying Toro's persona is actually Mara? Not every penis-demon in SMT, of which there are many, is Mara. For one it's not green. For two, it's easily defeated by starter personae. 68.1.178.118 22:50, March 30, 2012 (UTC)
....That thing looks like a penis. It even has a head.
Mara as Kenta's Persona
Edit
I was not trolling. Yes, Kenta's Persona looks like a penis. Mara is not the only demon to look like a penis, and this particular penis doesn't even look much like Mara. His Persona is never referred to by name. I have looked, and not found any source to backup the claim that his Persona is Mara besides this wiki and other wikis which quote this one. I'm also not the only user to have my doubts, as you can see above. 70.71.9.87 05:41, October 27, 2015 (UTC)
I concur.  This page seems to be the only source of his demon being Mara.  I mean, I get it, it looks vaguely like a penis, and herp derp penis is funny, but to me it always seemed like his stomach turned into a demon.  You know, the fat character where 90% of his entire personality is how fat he is.  Now his stomach became a demon.
And incidentally, this very page has a picture of it from the manga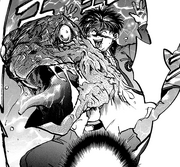 It's not hard to see that the demon is A) From his stomach, B) Not a penis, and C) Nothing like Mara.
In fact, I'm just going to scrub all references from this page myself.  This is ridiculous. Someone feel free to correct me if that manga explicitly states that the turtle-dragon is Mara, because the game sure doesn't say it.
104.34.95.163 05:02, May 7, 2016 (UTC)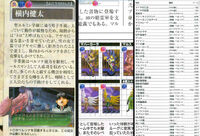 So, I have to turn to official publications that could help with settling this dispute. There is a guidebook by Atlus called Persona World Guidance published in Japan which covers the lore from the first and second Persona games. Kenta's Persona was never named, and there are no Personas explicitly named Mara. This is a scan from the book which I split between Kenta's information box (left) and the Persona list by kana on the right, there's Mahakala on the left, then followed by Mars. Perhaps this can help with settling whether Kenta's Persona is Mara or not. BLUER一番 04:44, August 3, 2016 (UTC)
Community content is available under
CC-BY-SA
unless otherwise noted.