Old Loki Image
Edit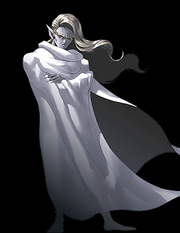 I changed the old Loki Image for this one It is okey?--I need your Halp! 18:57, 4 July 2008 (UTC)
I made Another change
Edit
Well what I did is basically put the little resume that the game gives you of Demons Origin . Should I left it or make a special part for it? --I need your Halp! 03:18, 17 July 2008 (UTC)
How are the top images chosen?
Edit
I'd kinda like to see an image of the original Loki (back when Loki was a major character) either from the anime or first novel. But I think the way Wikipedia works is the most recent image of a person goes up. So even if you were a starlet and now your a aging prune with no work, they put up the last photo anyone took of you (at least until you die) ...so should the wiki not follow the same rules?
Laevatein in P5R
Edit
Hi, relatively new to this wiki's style conventions, but I was attempting to add statistics from the playable Loki in Persona 5 The Royal, and ran into some uncertainties I'd like to resolve before attempting to push any edits.
First, how should I add it to the list of Personas? I was planning to put it on a tab select with the original stat block (so a P5 and P5R tab) to avoid having to create a new heading in the outline, just to minimize risk of messing with the format, but if convention has it such that it should be under a new P5R listing, I can do that. 
The second and more pressing question is how I should handle skills with the same names, but different effects. The playable Loki used by Goro Akechi in P5R has Laevatein as a skill much like the boss form does, but while the two share animations, it has an entirely different effect compared to the version Boss Akechi uses. Rather than dealing a delayed Almighty attack to the protagonist, it's a standard Skill dealing single-target Severe Physical damage, with an HP cost of ~25% of the user's HP. How should I add this skill to the Skills/P5 module? Should it be denoted with some modifier in parentheses, such as Laevatein (Ally) or Laevatein (Playable)? Should there be some other marking to denote its alternative status? Is there a sneaky formatting trick I am unaware of that could allow us to store and access two identically-named skills in the Skills module separately? Any advice or feedback is appreciated, thank you!
PilotSpiriah (talk) 06:59, November 2, 2019 (UTC)
Community content is available under
CC-BY-SA
unless otherwise noted.