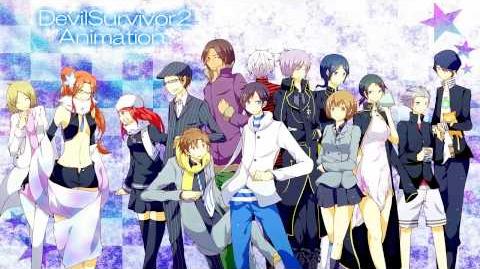 "Take Your Way" is the opening theme for Devil Survivor 2 The Animation by livetune feat. Sekai no Owari vocalist Satoshi Fukase.
目の前に映る
問いにいつも曖昧で
その言葉で 何かが
変わるなんて思いもしなくて

わずかでも生まれた
絆が望むなら
不完全な夢でも
見失わないで 叫べ

* 涙に濡れたこの声で
焼き払ったキミの肩抱く
迷い苦しんでも
選んだこの世界は
キミだけがつかむものだと
キミだけが願えるものだと
呼ぶ声は
もう絶やさない
ずっと 未来を
光が覆うまで


いつだって ふいに
前を塞ぐ 選択は
答え待たず 僕らを
望まない明日へと
連れてく

わずかでも
悲しみを消していけるなら
この身体を 刻む傷
省みないで 叫ぶ

涙に濡れたこの声で
立ち尽くした君の肩抱く
たとえ歪つでも
選んだこの未来は
君だけが掴むものだと
君だけが願えるものだと
喚ぶ声は
もう絶やさないんだ
ずっと 世界に
光描くまで


痛みを 避けようとしないで
答えを 胸にしまわないで
失うことを恐れないで
いつだって一人じゃないんだ
かすかに 聞こえてくるだろう
僕らで 創ったメロディーが
ずっと そう ずっと
君の 手を握ってる

枯らした声で震わせた
僕らを明日へ運ぶ歌が
響き渡って
誰かの夢に続く

(Repeat *)
me no mae ni utsuru
toi ni itsumo aimai de
sono kotoba de nani ka ga
kawaru nante omoi mo shi naku te

wazuka demo umare ta
kizuna ga nozomu nara
fukanzen na yume demo
miushinawa nai de sakebe

* namida ni nure ta kono koe de
yakiharatta kimi no kata idaku
mayoikurushin de mo
eran da kono sekai ha
kimi dake ga tsukamu mono da to
kimi dake ga negaeru mono da to
yobu koe ha
mō tayasa nai
zutto mirai wo
hikari ga oou made


itsu datte fui ni
mae wo fusagu sentaku ha
kotae matazu bokura wo
nozomanai ashita e to
tsureteku

wazuka de mo
kanashimi wo keshite ikeru nara
kono karada wo kizamu kizu
kaeriminaide sakebu

namida ni nureta kono koe de
tachitsukushita kimi no kata idaku
tatoe ibitsu de mo
eranda kono mirai ha
kimi dake ga tsukamu mono da to
kimi dake ga negaeru mono da to
yobu koe ha
mou tayasanain da
zutto sekai ni
Hikari egaku made


itami wo sakeyou to shinaide
kotae wo mune ni shimawanaide
ushinau koto wo osorenaide
itsu datte hitori ja nain da
kasuka ni kikoeteru darou
bokura de tsukutta merodii ga
zutto sou zutto
kimi no te wo nigitteru

karashita koe de furuwaseta
bokura wo asu e hakobu uta ga
hibikiwatatte
dareka no yume ni tsuzuku

(Repeat *)
The question that projects itself in front of me,
is always vague
I didn't even think that
Something about those words will change

If you wish for that bond
that just merely came to life
Don't lose sight of
even an imperfect dream I scream

* With this voice that's drenched in tears
I embrace those burned shoulders of yours
Even if I in pain go astray,
you still have chosen this world
That only you have grasped,
That only you can wish for
It won't let that voice you call out with
be eradicated anymore
Until the future
is forever covered in light


Choices block our way
so suddenly all the time
Without waiting for answers
They take us to the tomorrow
that we never wanted

If I can erase
even a tiny bit of your sadness
Then I won't reflect on the scars
to be carved into my body but shout out

With a voice choked with tears
I hug your shoulders as you stand still
Even if it's distorted,
you chose this future
That's something only you will grasp
That's something only you can wish for
The voice calling out so
will never cease now
Until light is drawn
in the world


Don't try to avoid the pain
Don't keep the answer in your heart
Don't be afraid of losing things
You're never alone
You can hear it faintly, right?
The melody we created
I'll always, yes, always
keep holding your hand

Trembling with a hoarse voice
The song that will carry us to tomorrow
will echo into
someone's dream

(Repeat *)
Community content is available under
CC-BY-SA
unless otherwise noted.