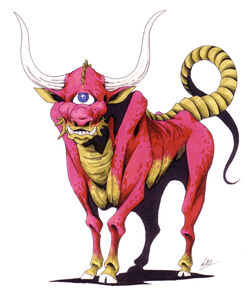 Stonka (ストーンカ, Sutōnka)? is a demon in the series.
A bull from Bulgarian mythology with skin as tough as bronze and causes thunder when it stomps. It killed peasants and their horses, and was slain when one of the peasants disguised themselves as a horse, and impaled it with a golden sword.
Appearances
Edit
Last Bible, as Blue in Revelations: The Demon Slayer
Shin Megami TenseiEdit
"Origin: Bulgaria. A monstrous bull that hails from Bulgaria. It is a one-eyed bull with bronze skin, that gives a thunderous roar that quakes the earth. It is also said to be the avatar of thunderclouds."
—Shin Megami Tensei A-Mode DDS Dictionary
Shin Megami Tensei IVEdit
"A one-eyed bull that caused chaos around the Balkans. With a cry like thunder and speed like lightning, it would run through ranches, ramming and killing any cow or horse in its way. Its skin was made of bronze and could deflect arrows with ease. It was also very cautious, never getting close to a human when it spotted one, and could sense traps with its magic. It was finally killed by a man who made a golden sword."
—Shin Megami Tensei IV compendium
Stonka can be found in Kiccigiorgi Forest and in the lowest levels of Naraku. It can teach Flynn the Lunge and Critical Wave skills through its Demon Whisper. Stonka is one of the demons needed to fuse Minotaur through special fusion.
Shin Megami Tensei IV ApocalypseEdit
Stonka can teach Nanashi the Tarunda, Zionga and Oni-Kagura skills through its Demon Whisper. It benefits from learning Physical and support skills.
Megami TenseiEdit
Megami Tensei IIEdit
| Stamina | Intelligence | Attack | Agility | Luck | Defense |
| --- | --- | --- | --- | --- | --- |
| 14 | 6 | 12 | 7 | 9 | 11 |
Kyūyaku Megami TenseiEdit
Megami TenseiEdit
| Race | Level | HP | MP | VIT | INT | STR | SPD | LUC | DEF |
| --- | --- | --- | --- | --- | --- | --- | --- | --- | --- |
| Beast | 28 | 116 | - | 8 | 9 | 11 | 13 | 9 | 14 |
Swd
Gun
Fir
Ice
Elc
Exp
For
Bnd
Crs
Nrv
Mnd

6

/

8
-
-
-
-

3

/

8
-
-

6

/

8
-
-
List of Spells

Skill
Cost
Effect
Roar
Extra
Damage + Bind to all enemies
Megami Tensei IIEdit
| Race | Level | HP | MP | VIT | INT | STR | SPD | LUC | DEF |
| --- | --- | --- | --- | --- | --- | --- | --- | --- | --- |
| Beast | 24 | 172 | - | 14 | 6 | 12 | 7 | 9 | 11 |
Swd
Gun
Fir
Ice
Elc
Exp
For
Bnd
Crs
Nrv
Mnd

6

/

8
-
-
-
-

3

/

8
-
-

6

/

8
-
-
List of Spells

Skill
Cost
Effect
Roar
Extra
Damage + Bind to all enemies
Shin Megami TenseiEdit
| CP | NOA | ATK | ACC | DEF | EVA | M.ATK | M.EFC |
| --- | --- | --- | --- | --- | --- | --- | --- |
| 17 | 1 | 75 | 18 | 36 | 14 | 6 | 5 |

| | | |
| --- | --- | --- |
| St | 21 | |
| In | 4 | |
| Ma | 5 | |
| Vi | 13 | |
| Ag | 13 | |
| Lu | 12 | |
| | | | |
| --- | --- | --- | --- |
| Resistances | Weak to Guns and Fire | Drop | Ox Bezoar |
Swd
Gun
Fir
Ice
Elc
For
Nrv
Exp
Crs
Mgc
Bnd
Chg
Dex
Ndl
Alm
-
1.5×
1.5×

7

/

8
1.5×
-
-
Nu
-

7

/

8
-

6

/

8
-
1.5×
-
List of Skills

Skill
Cost
Effect
Tackle
Extra
Charges into an enemy and damages it. (Charge-type, low accuracy)
Bind Voice
Extra
Binds a group of enemies. (Bind-type)
Berserk
Extra
Damages one group of enemies. (Charge-type)
Shin Megami Tensei IVEdit
Race

Level

HP

MP

| | | |
| --- | --- | --- |
| Strength | 17 | |
| Dexterity | 16 | |
| Magic | 13 | |
| Agility | 14 | |
| Luck | 12 | |

Beast
8
171
34
| Phys | Gun | Fire | Ice | Elec | Force | Light | Dark |
| --- | --- | --- | --- | --- | --- | --- | --- |
| - | Weak | - | - | Weak | - | - | - |
| | |
| --- | --- |
| Normal Attack | Phys x1, 1 enemy |
List of Skills

Skill
Cost
Effect
Level
Lunge
6 MP
Weak physical damage to one foe. High critical but low accuracy.
Innate
Critical Wave
10 MP
Weak physical damage to all foes. High critical but low accuracy.
9
Counter
Auto
Chance of countering with weak basic attack
after receiving physical or gun damage.
10
Shin Megami Tensei IV ApocalypseEdit
Race

Level

HP

MP

| | | |
| --- | --- | --- |
| Strength | 30 | |
| Dexterity | 30 | |
| Magic | 25 | |
| Agility | 41 | |
| Luck | 37 | |

Beast
26
233
125
| Phys | Gun | Fire | Ice | Elec | Force | Light | Dark |
| --- | --- | --- | --- | --- | --- | --- | --- |
| - | Weak | - | - | Resist | Weak | - | - |
| | |
| --- | --- |
| Ailment Resistance | Weak:Charm |
| | |
| --- | --- |
| Normal Attack | Phys x1, 1 enemy |
List of Skills

Skill
Cost
Effect
Level
Tarunda
25 MP
Debuffs all foes' physical attack/magical attack power by 1 level.
Innate
Zionga
10 MP
Medium elec damage to one foe.
Innate
Oni-Kagura
14 MP
Medium physical damage to one foe. High critical but low accuracy.
27
Counter
Auto
Chance of countering with weak basic attack after receiving physical or gun damage.
28
Last BibleEdit
| Level | HP | MP | NOA | DEF | STR | INT | END | SPD | LUC |
| --- | --- | --- | --- | --- | --- | --- | --- | --- | --- |
| 12 | 53 | 20 | 1 | | 9 | 9 | 11 | 9 | 7 |
List of Skills

Skill
Cost
Effect
Flare 1
12 MP
Fire damage to all enemies
Last Bible IIIEdit
| Level | HP | MP | ATK | DEF | STR | INT | END | SPD | LUC |
| --- | --- | --- | --- | --- | --- | --- | --- | --- | --- |
| 32 | 356 | 172 | 99 | 48 | 19 | 10 | 24 | 14 | 10 |
Majin TenseiEdit
| Race | Level | HP | MP | Mv Range | Mv Type | Atk Type | CP |
| --- | --- | --- | --- | --- | --- | --- | --- |
| Beast | 34 | 380 | - | 8 | Forest | | 15 |

| Strength | Magic | Technique | Defense | Agility | Luck |
| --- | --- | --- | --- | --- | --- |
| 20 | 7 | 16 | 7 | 6 | 7 |
Majin Tensei II: Spiral NemesisEdit
| Race | Level | HP | MP | Mv Range | Mv Type | Atk Range | MAG |
| --- | --- | --- | --- | --- | --- | --- | --- |
| Beast | 17 | 82 | - | 10 | Walk | 1-2 | 280 |

| St | Ma | In | Ag | Lu | Atk | P.Def | M.Atk | M.Def | Hit | Eva | Crt |
| --- | --- | --- | --- | --- | --- | --- | --- | --- | --- | --- | --- |
| 11 | 7 | 4 | 13 | 12 | 30 | 10 | 5 | 7 | 88 | 9 | 16 |
List of Skills

Skill
Power
Range
Cost
Target
Effect
Scratch
200%
1
P. Extra
Multi
70% chance to inflict Sleep
Giten Megami Tensei: Tokyo MokushirokuEdit
| Race | Alignment | Level | HP | MP | CP |
| --- | --- | --- | --- | --- | --- |
| Beast | Neutral-Neutral | 35 | 723 | 155 | 48 |

| Intuition | Will Power | Magic | Intelligence | Divine Protection |
| --- | --- | --- | --- | --- |
| 29 | 14 | 16 | 12 | 20 |

| Strength | Stamina | Agility | Dexterity | Charm |
| --- | --- | --- | --- | --- |
| 47 | 39 | 32 | 9 | 13 |
List of Skills

Hell Thrust
Body Blow
Howling
Rampage
Damudoora
Stone Bite