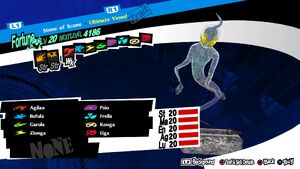 Stone of Scone (スクーンの石, Sukūn no ishi)? is a demon in Persona 5.
Appearances
Edit
The Stone of Scone was used in the coronation of the monarchs of Scotland, and later was put to the same use by the monarchs of England and the United Kingdom.
Persona 5Edit
"Also known as the Stone of Destiny, it is a stone used in the coronations of Scotland's monarchs. Legends say the stone is linked to angels."
—Persona 5 Compendium
Stone of Scone is encountered in Futaba's Palace and Mementos' Path of Akzeriyyuth'.
Persona 5Edit
Arcana

Level
HP
SP

Type

| | | |
| --- | --- | --- |
| Strength | 20 | |
| Magic | 20 | |
| Endurance | 25 | |
| Agility | 22 | |
| Luck | 30 | |

Fortune
20
300
150
Upbeat
| Phys | Gun | Fire | Ice | Elec | Wind | Psy | Nucl | Bless | Curse | Almi |
| --- | --- | --- | --- | --- | --- | --- | --- | --- | --- | --- |
| Block | Block | Block | Block | Block | Block | Block | Block | Block | Weak | 20 |
Arcana

Level

| | | |
| --- | --- | --- |
| Strength | 20 | |
| Magic | 20 | |
| Endurance | 20 | |
| Agility | 20 | |
| Luck | 20 | |

Fortune
20
| Inherit | Reflects | Absorbs | Block | Resists | Weak |
| --- | --- | --- | --- | --- | --- |
| - | - | - | Phys, Gun, Fire, Ice, Elec, Force, Psy, Nuclear, Bless | - | Curse |
List of Skills

Skill
Cost
Effect
Level
Agilao

8 SP

Medium Fire damage to 1 foe. Rare chance of Burn.
Innate
Bufula

8 SP

Medium Ice damage to 1 foe. Rare chance of Freeze.
Innate
Zionga

8 SP

Medium Electric damage to 1 foe. Rare chance of Shock.
Innate
Garula

6 SP

Medium Wind damage to 1 foe. Technical dmg: Burn.
Innate
Psio

8 SP

Medium Psy damage to 1 foe. Technical dmg: Mental ailment.
Innate
Freila

8 SP

Medium Nuclear damage to 1 foe. Technical dmg: Burn/Freeze/Shock.
Innate
Kouga

8 SP

Medium Bless damage to 1 foe.
Innate
Eiga

8 SP

Medium Curse damage to 1 foe.
Innate