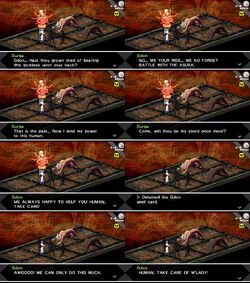 "The echoes of soul began to stir..."
—A special conversation being triggered in Persona 2: Eternal Punishment
In the Megami Tensei games where contact commands are available for negotiation between the party members and the enemy, sometimes a special conversation may be triggered under specific conditions. These conversations usually reference the mythological connection between the two parties, which can be either friendly or hostile. Conversations might also reference visual references, such as Jack Frost and Black Frost. Usually after a friendly chat, the enemy may gift the player team with a specific item and then leave the battle. If the relationship is hostile, the battle may either continue normally or someone will be inflicted with the berserk ailment.
Appearances
Role
Shin Megami Tensei NINE
Shin Megami Tensei III: Nocturne
All these special conversations are one-off. Once the event has been triggered, the next time the same talker and target will react as they're performing a normal conversation.
Talker
Target
Gift
Raphael
Throne
Emerald
Dominion
Sapphire
Virtue
Jade
Power
Opal
Principality
Amethyst
Archangel
Ruby
Angel
Agate
Uriel
Throne
Jade
Dominion
Opal
Virtue
Amethyst
Power
Ruby
Principality
Agate
Archangel
Aquamarine
Angel
Turquoise
Exclusive conversation skills
These skills are only learned from a specific demon. Most of these skills have their true effects only triggered when the original learners perform the skills. Also unique quotes are only spoken by the original learners.
Skill
Learner
Effect
True effect
Soul Recruit
Valkyrie
Recruits neutral demon.
Valkyrie instantly recruits male target.
Mischief
Loki
Recruits neutral demon.
Male talker instantly recruits female target.
Death Pact
Mithra
Recruits neutral demon and
may petrify target should it refuse.
Mithra instantly recruits target.
Maiden's Plea
Kikuri-Hime
Soothes an enraged target.
Young female instantly
soothes an enraged target.
Wine Party
Dionysus
n/a
Dionysus instantly settles all negotiation issues.
Devil Summoner: Raidou Kuzunoha vs. King Abaddon
Random encounters can start a conversation with a party demon, or have the talker begin one when conversing with demons. Demons grouped together such as Angel, Dominion, Throne have the same conversations with that demon.
Megami Ibunroku Persona
A special conversation can be triggered if specific demons are encountered while party members are equipped with specific Personas. The demons/Personas which initiate these conversations are noted on the stat templates as "Persona Talk" (ペルソナトーク, Perusona Tōku)?. If the relationship between Persona and demon is Friendly (友好, Yūkō)? or between a Master and their Servant (主従, Shujū)?, the player obtains the demon's Spell Card, however Spell Cards obtained this way do not count towards obtaining the Avatar Totem. If their relationships is Hostile (敵対, Tekitai)?, both will be afflicted with Fury.
Persona 2
Similar to Persona, if certain demons are encountered while party members are equipped with specific Personas, special conversations will be initiated. The specific demons and Personas required are again noted under "Persona Talk". Special conversations can now result in the player receiving Tarot Cards of the demon's Arcana if the relationship is Friendly. If their relationship is that of a Master and their Servant, the player will either receive Tarot Cards, form a pact with the demon, or receive a special item. If the relationship is Hostile, both will be afflicted with Berserk (not to be confused with Fury). This particular ailment is incurable by any skill or item unless the berserk ally is rendered unconscious and then revived.
Special conversations in Persona 2 happen automatically and randomly at the beginning of the battle once both the required Persona and demon are present. These conversations are also repeatable including the Fariedone-Azhi Dahaka pair even after the latter invulnerability has been disabled permanently.
Innocent Sin
Eternal Punishment