Fire Emblem Warriors: Three Hopes - The Loop
Play Sound
This article is about a media that has yet to be released.
As such, some of the information might be inaccurate, and may change substantially as more information becomes available. Please do not add speculation to this article, and cite a published source when necessary.
"Destroy the end of the world."
—Soul Hackers 2
Soul Hackers 2 is an upcoming game developed by Atlus Co., Ltd.. It is a sequel to Devil Summoner: Soul Hackers, both part of the Devil Summoner series.
Summary
[
]
In a war between Devil Summoners, the artificial intelligence Aion predicts the end of the world and creates and sends out agents Ringo and Figue to avert the world's fate. Aion has picked up on several targets, particularly Devil Summoners, whose deaths would take part in causing the end of the world, and Ringo is assigned to revive them using her "Soul Hack" ability.
Characters
[
]
Main article: List of Soul Hackers 2 Characters
Playable
[
]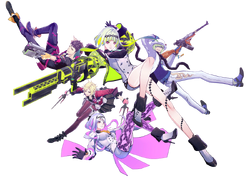 The story stars outlaws living in the underworld faced against the end of the world.
Supporting
[
]
Gameplay
[
]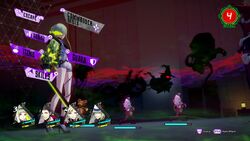 Combat takes inspiration from the Persona series, emphasizing on exploiting weaknesses. Stacking weaknesses will unlock a special technique called "Sabbath," a stylized name for an All-Out Attack, allowing Ringo's demons to strike the enemies.
The 4 party members all likely learn and grow like standard party members, developing their own stats and skills as they level up. They are also able to equip a demon, which serves as an upgrade to their stats and lets them use their skills. Under normal circumstances, they can re-equip a demon mid-battle, but it'll take them a turn to do so.
The affinity chart of the game is simplified, only featuring Fire, Ice, Electricity and Force, as well as Almighty. Physical skills are also paired with Gunfire.
The party members' COMPs can be customized at a COMP smith, allowing them to enhance their devices with special effects, assuming that they have the materials and the respective fee required for the upgrade.
Additionally, these COMPs also have additional properties, such as "mystique adaptation," which is separated against all elements on the affinity chart, as well as miscellaneous skill types, such as Ailments, Recovery and Support.
The game also has social mechanics, where Ringo can spend time with her allies and increase their Soul Level.
Downloadable Content
[
]
Purchasable DLC includes:
Additional story arc: "Lost Numbers";
There will be 6 themed DLCs in total:
DLC demons: grants access to eight demons, such as Mara and Masakado. Other demons include Anahita, Zaou-Gongen, Tzitzimitl, Armaiti and Nemissa;
DLC that makes it easier to earn EXP, as well as money and incense;
Ai-ho demo DLC;
Mary's maid outfit DLC (for Ringo).
In addition, as a pre-order bonus, users gain access to custom outfits of several characters from Persona 5, particularly the protagonist, Ryuji Sakamoto, Ann Takamaki and Goro Akechi, can be equipped:
It also allows to change the battle music to "Keeper of Lust" from the same game, and includes an accessory that increases the Critical rate of the user's Gunfire attacks.
Limited Editions
[
]
In Japan
[
]
In Japan, the "first" limited edition celebrates the 25th anniversary of Devil Summoner: Soul Hackers:
Includes the game (for PS4 and PS5 only);
Aihoo-kun DLC;
Soul Hackers 25th Anniversary book (100 pages, includes "Soul Hackers Visual Story," staff interviews, setting materials, etc.[2]);
Soul Hackers 25th Anniversary Music Album (3 CDs, 30 songs total; 20 arrangements of Soul Hackers songs & 10 soul jazz-style arrangements of previous and current songs[2])
In the West
[
]
The western collector's edition includes:
Ai-Ho figure (same as JP edition);
Steelbook case;
Mimi plushie;
Pin collection;
USB soundtrack;
Shark keychain (Based on the one attached on Saizo's COMP);
Branded box;
Character art cards.
Development
[
]
During a post-announcement interview, Ishida remarked that they decided to develop Soul Hackers 2 primarily due to fan requests for a sequel of Devil Summoner: Soul Hackers, but his own reason for planning the title was that he found the inclusion of science fiction elements in the original to be quite sharp for games among the Shin Megami Tensei series. He thought he could replicate the feeling of the original by making use of themes, such as technology, people, the occult as well as the relationship between those elements. But in spite of fan request, Ishida worried that said original entry might have been forgotten, since it came out 25 years prior, and even the DS remaster came 10 years ago.[3]
On the title and why it omits mention of Devil Summoner, Hirata explains there are various reasons for the choice, one being that the theme revolves around technology, but he also wants to bring the name "Soul Hackers" to the front.[3]
On the themes of the game, where the first focused around a network, the second would revolve around the existence of Aion, which is created from accumulation of information. Soul Hackers 2 instead observes people, depicting "what a human being is" from the viewpoint of technology.[3]
Ishida and Hirata both worked as directors and producers, co-operating in the process. Ishida explains one of the reasons for that is that the evolution of game consoles has increased the scale of development for each game, making it difficult for one person to take the initiative. From their time on Tokyo Mirage Sessions ♯FE, the saying "if you want to develop a big title, let's do it together" was since used as the basis of their plan to work together. As collaborating directors, Ishida is primarily in change of the worldview of the game, while Hirata observes the system side, and they both use their roles as producers to view the big picture.[3]
Promotion
[
]
"Humanity will END soon. To avoid the END, your cooperation is needed."
—Information gathering sequences, Soul Hackers 2
The game would first be teased, only via its relations to Devil Summoner: Soul Hackers. On February 17th, 2022, 4 daily streams would be hosted on ATLUS' Japanese YouTube channel, each starting at 8pm JST. These streams consisted of gathering information from users, and each stream would hold 3 questions, each separated by 10 minutes. The session is most likely a replication of feeding Flamma of Aion information, who would directly speak during the streams.
Session
Questions
No.1
No.2
No.3
01
What is a game to you?
Your favorite food
Your favorite demon
02
What heals you
Favorite person or idol
What is the internet to you?
03
What is Twitter to you?
Favorite skill
Law or Chaos
04
Your regrets
Tell us your biggest enemy
What is a person?
At random intervals during the streams, the term "Ringo" would constantly be brought up, alluding to the game's protagonist, and several vague screenshots of the game's setting and characters would be shown.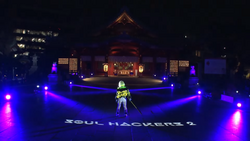 During a stream on February 21st, the protagonist Ringo would be unveiled as part of a live-action fight sequence over at Kanda Shrine, which would end with the reveal of Soul Hackers 2. The rest of the stream would be hosted by Tomoyo Kurosawa, with guests Mafia Kajita, comedian Nobuo from Penguins, and later directors/producers Eiji Ishida and Mitsuru Hirata, who would go over more general information on the game.
Similarly to Shin Megami Tensei V's Daily Demon, a web-series to promote Soul Hackers 2 would be hosted starting from March 10th, sub-titled "Daily Ringo's Demon Prediction." And continuing the recent promotional model of ATLUS games in Japan, Summoners Guide would inform players of the mechanics and details of the game. Both of these series are hosted by Ringo.
Gallery
[
]
Artwork
[
]
Screenshots
[
]
Wallpapers
[
]
Videos
[
]
Regular, character and Summoners Guide trailers all have either English trailers with subtitles, or their respective Japanese video has English captions.
Trailers
[
]
Character Trailers
[
]
Summoners Guide

[

]
Streams
[
]
Information gathering sequences
[
]
Daily Ringo's Demon Prediction
[
]
Only the latest 6 videos are to be listed on this article to avoid clutter. For the full list, see Soul Hackers 2 Daily Ringo's Demon Prediction
Today's Fortune
I wonder if today's lucky items are commercial tools.
A place for work tools may be key to further expanding your influence.
1st
Capricorn(♑︎)
2nd
Taurus(♉︎)
3rd
Sagittaurus(♐︎)
4th
Pisces(♓︎)
5th
Leo(♌︎)
6th
Scorpio(♏︎)
7th
Cancer(♋︎)
8th
Aquarius(♒︎)
9th
Virgo(♍︎)
10th
Libra(♎︎)
11th
Aries(♈︎)
12th
Gemini(♊︎)
In Other Languages
[
]
Language
Title
Japanese
SOUL HACKERS 2
ソウルハッカーズ2
Korean
소울 해커즈2
Traditional Chinese
靈魂駭客2
Simplified Chinese
灵魂骇客2
French
Soul Hackers 2
Italian
Soul Hackers 2
German
Soul Hackers 2
Spanish
Soul Hackers 2
Trivia
[
]
Soul Hackers 2 is the first game in the Megami Tensei series to be directly developed for the PlayStation 5, without requirements for backwards compatibility.
Soul Hackers 2 is the first Megami Tensei game (as well as a work created by Atlus) to be developed for both Xbox Series X/S and the Xbox One. It is also the first game to be published for an Xbox console in 8 years since Persona 4 Arena Ultimax.
Soul Hackers 2 is the first Megami Tensei game for Microsoft Windows since Giten Megami Tensei: Tokyo Mokushiroku to be internally developed at Atlus, as previous titles in the franchise available on PC (mainly via Steam) were largely outsourced to external developers with their supervision.
The day of release, the 25th, might be a reference to the Soul Hackers series' 25th anniversary.
The story takes place in mid-21st century.
External Links
[
]
References
[
]