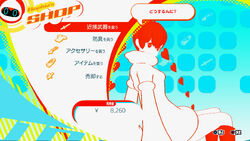 Sophia's Shop is the in-game shop of Persona 5 Strikers.
Sophia runs a shop in the form of an application. It takes over the role of Takemi Medical Clinic and Untouchable from Persona 5, and merges them into a single facility, as both stores are not open when the Phantom Thieves of Hearts attempt to infiltrate the Shibuya Jail. When an order is placed, Sophia can summon a deliveryman from anywhere within seconds for anything, although she still has to pay the vendor with cryptocurrency, and the Phantom Thieves have to pay for said item.
Sophia's Shop is unlocked midway through the exploration of the Shibuya Jail. Sophia's Shop combines all of the functions that would normally be delegated to various shop types, allowing the party to purchase weapons, armor, accessories and consumables, as well as selling material items found in Jails for small amounts of money. The shop's inventory naturally increases over the course of the story, but completing specific Requests will add additional items to Sophia's stock. Items in Sophia's stock, including consumables and ingredients, are sold in limited quantities, and after selling out the party must spend time in the Metaverse before Sophia will restock her inventory.
By purchasing the "Smart Shopper" BOND Skill, a selection of items will go on sale every time Sophia's stock refreshes. The number of different items on sale and the value of the discount varies based on the level of the Smart Shopper skill, with up to a maximum of a 60% discount. Items on sale can even include items that Sophia does not normally sell, such as the extremely rare Select Coffee Beans ingredient.
If any Recipes were not obtained before leaving a city, Sophia will sell the Recipe in her shop, allowing it to be obtained even if it was missed. However, Recipes obtained this way will usually be sold at a substantial markup.
The ability to sell all items at once in Sophia's Shop has only been implemented in Update Ver.1.03 of the Japanese release. It has been unavailable beforehand.
Community content is available under
CC-BY-SA
unless otherwise noted.