World of Warcraft: Dragonflight - The Loop
Play Sound
Smile Hirasaka is a dungeon appearing in Persona 2. It is located in the Hirasaka District of Sumaru City.
Appearances
Profile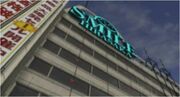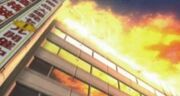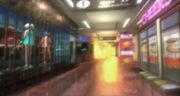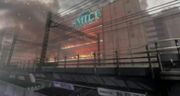 Innocent Sin
Smile Hirasaka was one of two locations that the Masked Circle threatened to bomb in order to fulfill the prophecy stated in the Oracle of Maia. It blows up immediately if the party tries to search the Sakanoue Building instead, and the party then receives a call from their ally with the next clues.
Eternal Punishment
A "cleansing seminar" facilitated by Ginji Sasaki took place at an event hall in the mall. People were invited to attend to rid them of their sins. The device which supposedly cleansed people of their sins actually drained them of Kegare.
Treasures
Innocent Sin
4F - Chewing Soul x3, Dx Incense x1, Pipe Fox
3F - ¥30,000, Tranquilizer x3
2F - Maragi Card x1, Energy Drink x3
B1F - Sukukaja Card, Kraken (Vi Incense)
Enemies
Indigo

boxes indicate Innocent Sin bosses.
Innocent Sin
Enemy
Lv
HP
Arcana
Drop
Rare
Jack Frost
18
123
Lovers
-
-
-
-
-

Wk

Nu
-
-

Dr

-
-

St

St

-

St

Bufu Card
Hee-Ho Boots
Angel
18
106
Judgement
-
-
-
-
-
-
-
-
-
-
-
-
Nu

Wk

-

St

Dia Card
-
Fjalar
19
145
Temperance

St

Wk

St

-

St

-
-
-

Wk

-
-
-

St

St

-

St

Revival Bead
Balm of Life
Faust
20
155
Magician
-
-
-
-
-
-
-
-
-
-
-
-

Wk

Nu
-

St

Energy Drink
Frei Card
Gandharva
21
188
Star
-
-
-
-
-

Dr

Wk

-
-
-
-
-

St

St

-

St

Silver Manisha
Agilao Card
Kraken
21
199
World
-
-
-
-
-

Wk

Nu
-
-
-
-
-

St

St

-

St

Tranquilizer
Aques Card
Pairika
22
171
Moon

Wk

Nu
Nu
Nu
Nu
-
-
-
-
-
-
-

Wk

Nu
-
Nu
Medicine
Garula Card
Hel
22
174
Death
-
-
-
-
-
-
-
-
-
-
-
-
Nu
Nu
-

St

Magna Card
Magnara Card
Lich
23
166
Devil
-
-
-
-
-
-
-
-
-
-
-
-

Wk

Nu
-

St

Pulinpa Card
-
Ixquic
Belphegor
23
24
1656
1778
?
?

Wk


-
Nu
-
Nu
-
Nu
-
Nu


St

-


Wk

-


Wk

St




Wk

-


Wk

-


Wk

-


Wk

-


Wk

Wk


Nu
Nu
Nu
-


Wk

St




St

¥23,000
-