m

(17 intermediate revisions by 3 users not shown)
Line 1:
Line 1:
 
⚫
−

'''Slipping Hablerie''' (失言のアブルリー, ''shitsugenno-abururii'') is a Boss in ''[[Persona 4]]''. It is the first Boss encountered in the [[Twisted Shopping District]] in the [[Midnight Channel]].

 
 
+

'''Slipping Hablerie''' {{J|失言のアブルリー|Shitsugen no Abururī}} is an enemy in ''[[Persona 4]]''.

 
+
 
+

==Appearances==

 
+

*''[[Persona 4]] / ''[[Persona 4 Golden|Golden]]''

 
+

** ''[[Persona 4 The Animation]]'' / ''[[Persona 4 The Golden Animation|The Golden Animation]]''

 
+

*''[[Persona Q2: New Cinema Labyrinth]]''

 
+
 
+

==Profile==

 
+
 
+

===''Persona 4''===

 
+

It is the first [[Shadow (Persona)|Shadow]] enemy encountered in the game, within the [[Twisted Shopping District]] in the [[Midnight Channel]].

 
+
 
+

===''Persona Q2: New Cinema Labyrinth''===

 
+

The copies of [[Hikari]]'s primary school friends in [[Hikari (Labyrinth)|???]] transform into Slipping Hableries to attack the party after they are denied. There are three of them and they are accompanied with a [[Regal Mother]].

 
 
 

==Stats==

 

==Stats==

 
+

===''Persona 4''===

−

{{P4enemy

 
 
+

<tabber>

 
+

Persona 4=

 
+

{{stats|p4

 

|Level=1

 

|Level=1

 

|Arcana=Magician

 

|Arcana=Magician

Line 9:
Line 26:
 

|EXP=22

 

|EXP=22

 

|Yen=50

 

|Yen=50

 
+

|Strength=2

 
+

|Magic=2

 
+

|Endurance=5

 
+

|Agility=1

 
+

|Luck=1

 
+

|Phys=<abbr title="No Strong flag, damage reduced to 75%">Strong</abbr>

 
+

|Fire=Resist

 
+

|Ice= -

 
+

|Lit=Weak

 
+

|Wind= -

 
+

|Light= -

 
+

|Dark= -

 
+

|Alm= -

 
⚫
 
⚫
 
⚫
 
+

Persona 4 Golden=

 
+

{{stats|p4

 
+

|Level=1

 
+

|Arcana=Magician

 
+

|HP=40

 
+

|SP=35

 
+

|EXP=30

 
+

|Yen=0

 

|Strength=2

 

|Strength=2

 

|Magic=2

 

|Magic=2

Line 15:
Line 56:
 

|Luck=1

 

|Luck=1

 

|Phys=-

 

|Phys=-

−

|Fire= -

+

|Fire=

 

|Ice= -

 

|Ice= -

 

|Lit=Weak

 

|Lit=Weak

Line 22:
Line 63:
 

|Dark= -

 

|Dark= -

 

|Alm= -

 

|Alm= -

 
⚫
 

}}

 

}}

 
+

</tabber>

 
 
 
+

===''Persona Q2: New Cinema Labyrinth''===

⚫
 
 
+

{{stats|PQ2

−

{|style="border-radius:7px; background: #222222; text-align:center;" width="80%" cellpadding="0" cellspacing="2"

 
 
+

|Level=?

−

!style="background-color:black; border-radius:3.5px;"|Skill

 
 
+

|HP=1,566

−

!style="background-color:black; border-radius:3.5px;"|Effect

 
 
+

|Attack=165

⚫
 
 
+

|Defense=132

−

!style="background-color:#FFE600; border-radius:3.5px; color:black;"|Attack

 
 
+

|Ice=Strong

⚫
 
 
+

|Light=Weak

⚫
 
 
+

|Dark=Strong

−

==Gallery==

 
 
+

|Exp=?

−

<gallery captionalign="left">

 
 
+

|Skill=

⚫
 
 
+

Bufula

−

</gallery>

 
 
+

Eiga

 
+

Thorn Shackles

 
+

|Drop1=

 
+

|Drop2=

 
+

}}

 
+

[[Category:Persona Q2 Shadows]]

 
+

[[Category:Persona Q2 Bosses]]

 
+

[[Category:Magician Arcana]]
---
Revision as of 15:55, 20 March 2020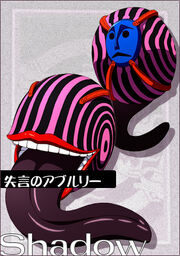 Slipping Hablerie (失言のアブルリー, Shitsugen no Abururī)? is an enemy in Persona 4.
Appearances
Profile
Persona 4
It is the first Shadow enemy encountered in the game, within the Twisted Shopping District in the Midnight Channel.
Persona Q2: New Cinema Labyrinth
The copies of Hikari's primary school friends in ??? transform into Slipping Hableries to attack the party after they are denied. There are three of them and they are accompanied with a Regal Mother.
Stats
Persona 4
Persona Q2: New Cinema Labyrinth
Level
HP
Attack
Defense

| | | |
| --- | --- | --- |
| Strength | -- | |
| Magic | -- | |
| Endurance | -- | |
| Agility | -- | |
| Luck | -- | |

?
1,566
165
132
| Exp | Drop 1 | Drop 2 | Drop 3 |
| --- | --- | --- | --- |
| ? | - | - | - |
| Phys | Fire | Ice | Elec | Wind | Psy | Nuke | Bless | Curse | Alm |
| --- | --- | --- | --- | --- | --- | --- | --- | --- | --- |
| - | - | Strong | - | - | - | - | Weak | Strong | - |
| Sleep | Confuse | Poison | Hex | Paralysis | S-Bind | M-Bind | A-Bind | Down | KO |
| --- | --- | --- | --- | --- | --- | --- | --- | --- | --- |
| - | - | - | - | - | - | - | - | - | - |
List of Skills
Skill
Effect
Bufula
Medium Ice attack. (1 enemy)
Eiga
Medium Curse attack. (1 enemy)
Thorn Shackles
Light Phys attack, with medium chance of Agility Bind. (1 enemy)