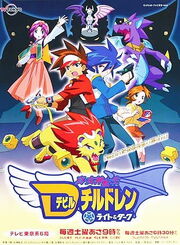 Shin Megami Tensei: D-Children Light & Dark (真・女神転生Dチルドレン ライト&ダーク, Shin Megami Tensei DīChirudoren Raito ando Dāku)? is a spin-off series of the Devil Children: Light / Dark Game Boy Color and Game Boy Advance games (known as DemiKids in the U.S.). It is an adventure/fantasy type of anime series. Unlike the previous series , this series was animated and produced alone by Actas, until episode 26. Due to unknown causes, the production switched to Studio Comet at episode 27, causing a drastic staff change as a result. The anime was broadcast on TV Tokyo on October 5, 2002 at 9:00AM. The series ran for 52 episodes.
The year is 200X. Jin (Kazuhiro Shindou), Akira and Lena are three childhood friends who like mysterious things. One day in the library, they find the "Akuma Compendium." They chanted an incantation in the book and, to their surprise, time stopped and they were sucked into another world. When they arrive, Amy then tells Jin and Akira that they are the Princes of Light & Dark that will decide the fate of the world. The demon partner of Jin is Rand, a Sol Lion, and Akira's is Gale, a Rox (Hylon).
The final episode ends on a cliffhanger of Lena being an Angel Child still under Enoch's control, who appears on her cell phone and mind controls her.
Community content is available under
CC-BY-SA
unless otherwise noted.