New Pokemon Games - The Loop
Play Sound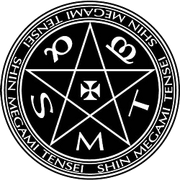 The Shin Megami Tensei series (真・女神転生, Shin Megami Tensei)? alternatively known as SMT, is the largest of the branches in the Megami Tensei franchise. It started with Shin Megami Tensei and maintains many of the traditional aspects of the original Megami Tensei. The "shin" (真) in the title translates to "true", but another Japanese character also called "shin" (新) means "new", and is a play on words in Japanese. Notably, Atlus USA attached the title of Shin Megami Tensei to all Megami Tensei franchise games they have released after the release of Shin Megami Tensei III: Nocturne, regardless of which series they originally belonged to, to help market the Megami Tensei franchise in the west.[1][2]
Main Games
Side Games
Mobile Phone Games
MMORPGs
Manga Series
Novels
TRPG Replays
Animation
Drama CDs
Card Game
Tabletop RPG
Gallery
Trivia
While the Shin Megami Tensei moniker has been used for multiple games not in the Shin Megami Tensei series outside of Japan, the moniker was dropped from Persona 4 Golden and the Persona 4 Arena duology as it would have made the titles unwieldy.[2]
According to Atlus, the series title is translated as "True Goddess Metempsychosis": Metempsychosis refers to the series' trademark theme of reincarnation.[3]
References