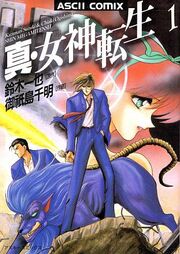 Shin Megami Tensei: Tokyo Revelation (真・女神転生 東京黙示録?, lit. "True Goddess Reincarnation Tokyo Revelation") is a manga loosely based on the Shin Megami Tensei series and was later adapted into an OVA by the same name.
Japan: April 1993 (Volume 1)
Japan: February 1994 (Volume 2)
Japan: March 1995 (Volume 3)
Japan: December 1995 (Volume 4)
An original manga with a story written by Kazunari Suzuki, who was responsible for the scenarios of Megami Tensei, Shin Megami Tensei, Shin Megami Tensei II, and the Chain of Curse storyline of Shin Megami Tensei IMAGINE. He also worked as the director for Giten Megami Tensei: Tokyo Mokushiroku. The manga was done by Chiaki Ogishima, who wrote the Heat Guy J manga as well as the Shin Megami Tensei II manga adaptation. It was published by ASCII Comics.
The plot takes place in Kichijouji Seijou Gakuen as the members of its newspaper staff including the occult-loving Kojiro Souma, his friend Yousuke Miura, and Yousuke's girlfriend Saki Yagami start investigating a series of mysterious deaths occurring in the school's computer club. They discover that the culprits behind this are Akito Kobayashi, a student and member of the computer club, and the club's adviser Arata, who is possessed by the demon Gagyson. Together, Akito and Gagyson are seeking to amass Magnetite through these deaths to summon hell's ruler Ose.
With Kyouko Shibusawa and Marika Kusaka's help, Kojiro is able to awaken a power sleeping within him to combat this plan.
Community content is available under
CC-BY-SA
unless otherwise noted.