Fire Emblem Warriors: Three Hopes - The Loop
Play Sound
Shin Megami Tensei: Strange Journey is a game for the Nintendo DS console.
An enhanced port to the Nintendo 3DS, Shin Megami Tensei: Strange Journey Redux, was released on May 15, 2018. The game includes new artwork for the characters, voice acting, animation, new demons, and 3 new endings. 350 demons are fusable in-game.
Plot
[
]
A mysterious black hole has appeared on the region of the South Pole and is expanding day by day. Concerned about this event, the United Nations sent a collection of elites from around the world to investigate the area called Schwarzwelt (シュバルツバース, Shubarutsubāsu, Schwarz-verse). Inside, the U.N. Schwarzwelt Investigational Team finds that the area has been infested with supernatural beings known as demons that threaten to cross into the human world. As the team delves further into the Schwarzwelt, they find strange and repulsive callbacks to human society.
The player assumes control of an unnamed soldier from America (or Japan in the Japanese version), who will be working with three other crew members assigned by the Joint Project. The crew dons Demonica suits, which enables access to special abilities as well as regulating the player to the conditions within the Schwarzwelt.
Characters
[
]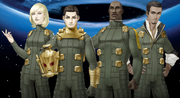 The major characters of Shin Megami Tensei: Strange Journey are:
Gameplay
[
]
Strange Journey returns to the original Shin Megami Tensei formula of dungeon crawling from first person and negotiating with demons to become your minion, but changes the narrative to a science fiction setting. After collecting any of the over 300 demons in the game, you can try and fuse them together to create more powerful demons. Another notable feature is the lack of needing to acquire Magnetite to maintain your demons outside the field. However, the Moon Phase System found in all of the previous main series titles is still intact.
The inclusion of the Demonica (DEMOuntable Next Integrated Capability Armor) allows the protagonist to upgrade his abilities to progress further into the Schwarzwelt.
Password System
[
]
Another new addition to the series is a password system. By using an up to 32 digit code in the Demon Compendium players can trade passwords to unlock demons from each other. Certain demons can only be obtained in this way, and Atlus will reveal passwords to give players access to them. It was decided that this system was easier to use than connecting through Wi-Fi as passwords can be posted anywhere and used at anytime.
Reception
[
]
Strange Journey is well received by critics. IGN gave it 4 stars (8.5 in scale of 10), saying that "though the game's turn-based combat system is standard stuff, fusing demons, launching co-op attacks, and exploring the environments keeps things interesting". It received a score of 36/40 from Famitsu, which was the highest score given by the Japanese magazine to an Atlus game at the time.
Gallery
[
]
Trivia
[
]
References
[
]
External links
[
]