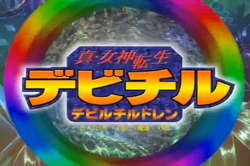 Shin Megami Tensei: DeviChil (真・女神転生デビチル?) or (also 데블파이터 in South Korea) is an anime series based on Devil Children Black Book and Devil Children Red Book. It was broadcast on the Chubu-Nippon Broadcasting Network starting on October 20, 2000 at 7:30AM and ran for 50 episodes.
A sequel was made in 2002, which was 52 episodes long. It was called Devil Children: Light & Dark. This was the last anime in the franchise before Persona -trinity soul-'s release.
Characters
Edit
Protagonists
Edit
Antagonists
Edit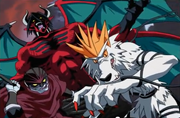 Lucifer - The main antagonist of the first half of the series. He plotted to take over both worlds.
Abaddon - Appears with Fenrir as one of Lucifer's minions.
Fenrir - An effeminate werewolf who used earthquake based attacks.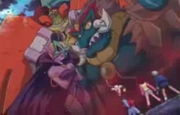 Later after Lucifer's defeat, three demons appeared and plotted to take over the Demon World.
Company
TMS Entertainment
Distributors
Buena Vista International (All media) (2002) (worldwide)
Mondo TV (DVD) (2005) (Italy)
Community content is available under
CC-BY-SA
unless otherwise noted.