World of Warcraft: Dragonflight - The Loop
Play Sound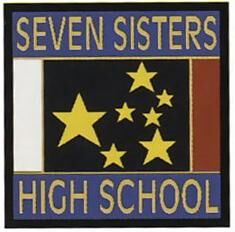 Seven Sisters High School (七姉妹学園 [ななしまいがくえん], Nana-shimai Gakuen)? is an important location in Persona 2.
Appearances
Profile
Seven Sisters High School is a school considered to have very high standards in Sumaru City. It is the high school attended by Tatsuya Suou, Anna Yoshizaka, and Lisa Silverman. Several other important characters also attended the high school; Tatsuya Sudou was a senior, Katsuya Suou an alumnus, and Akinari Kashihara was the World History teacher.
The emblem of the school is based on the Pleiades constellation, which is also the school's namesake. Aside from the school uniforms, all clocks in the school as have the emblem in their faces.
The male uniform consists of a black jacket and pants with white strikes. The female uniform is a sailor suit with the same color motif. The male students wear ties while the female students wear ribbons in colors that indicate their grade: green for first-years, orange for second-years and blue for third-years. However, in the Tsumi to Batsu manga, the color representing second-years is red.
Innocent Sin
Sevens is the first dungeon of the game, as well as the gateway to the Silver River, which is the only way to get to Xibalba's core, the game's final dungeon. If, during the first visit, the player starts the rumor that Takashi Hanya is not dead, he will defend the school during the Last Battalion's assault, having been changed by the students' rumors into a great principal and man; however if the player says he died, the school will be defended by the returning cast from Megami Ibunroku Persona.
Eternal Punishment
Sevens returns as the first dungeon of the game, with the short title as 7 Sisters or Sevens. The EX Dungeon is also based on the school's layout.
Music
Members
Notable Students
Known Faculty
Treasures
Eternal Punishment
2F: Awaken G x2
3F: ¥1200
Enemies
Dark Purple

boxes indicate Rumor demons.<br\/>

Indigo

boxes indicate Innocent Sin bosses.

Purple

boxes indicate Eternal Punishment bosses.
Innocent Sin
| Enemy | Lv | HP | Arcana | | | | | | | | | | | | | | | | | Drop | Rare |
| --- | --- | --- | --- | --- | --- | --- | --- | --- | --- | --- | --- | --- | --- | --- | --- | --- | --- | --- | --- | --- | --- |
| Ghost | 1 | 10 | Devil | Wk | Nu | Nu | Nu | Nu | - | - | - | - | - | - | - | Wk | Nu | - | Nu | Antidote | - |
| Slime | 1 | 9 | Tower | - | - | - | - | - | - | - | - | - | - | - | - | Wk | Nu | - | Nu | Medicine | - |
| Pixie | 2 | 16 | Lovers | - | - | - | - | - | - | - | St | Wk | - | - | - | St | St | - | St | Saffron Earring | - |
| Poltergeist | 2 | 14 | Devil | - | - | - | - | - | - | - | - | - | - | - | - | Wk | Nu | - | St | Medicine | - |
| Nightmare | 3 | 25 | Moon | Wk | Nu | Nu | Nu | Nu | - | - | - | - | - | - | - | Wk | Nu | - | Nu | Revival Bead | - |
| Xaphan | 3 | 21 | Hanged Man | - | - | - | - | - | St | Wk | - | - | - | - | - | St | St | - | St | Ultraviolet String | - |
| Ratatoskr | 4 | 24 | Hermit | - | - | - | - | - | - | - | Wk | St | - | - | - | St | St | - | St | Open Sesame | Magna Card |
| Hanako | 5 | 108 | Rumor | St | St | St | St | St | St | St | St | St | St | St | St | Nu | Nu | St | Nu | Hanako's Nametag | - |
| Takashi Hanya | 7 | 662 | ? | - | - | - | - | - | Wk | Nu | - | - | Nu | - | - | St | St | - | St | ¥12000 | - |
| Enemy | Lv | HP | Arcana | | | | | | | | | | | | | | | | | Drop | Rare |
| --- | --- | --- | --- | --- | --- | --- | --- | --- | --- | --- | --- | --- | --- | --- | --- | --- | --- | --- | --- | --- | --- |
| Sturm Soldat | 32 | 245 | Reich | - | - | - | - | - | - | - | - | - | - | - | - | Nu | St | St | St | Energy Drink | - |
| Sharf Shutze | 43 | 285 | Reich | - | - | - | - | - | - | - | - | - | - | - | - | Nu | St | St | St | Brink Tea | - |
| Taurus Mask Real | 44 | 295 | Taurus | - | - | - | - | - | - | - | Wk | Nu | Dr | Dr | Dr | St | St | - | St | Magnadyne Card | - |
| Aquarius Mask Real | 44 | 295 | Aquarius | - | - | - | - | - | - | - | Nu | Wk | - | Dr | - | St | St | - | St | Garudyne Card | - |
| Scorpio Mask Real | 44 | 295 | Scorpio | - | - | - | - | - | Wk | Nu | - | - | Dr | - | - | St | St | - | St | Mediarama Card | - |
| Leo Mask Real | 44 | 295 | Leo | - | - | - | - | - | Nu | Wk | - | - | - | - | Dr | St | St | - | St | Agidyne Card | - |
| Maschinen Kommando | 45 | 400 | Reich | - | - | - | - | - | - | - | - | - | - | - | - | Nu | St | - | St | Vital Parts Guide | - |
| Kommandant | 47 | 395 | Reich | - | - | - | - | - | - | - | - | - | - | - | - | Nu | St | - | St | Super Visor | - |
| S.S. | 51 | 400 | Reich | - | - | - | - | - | - | - | - | - | - | - | - | Nu | St | - | St | Super Nambu 100 | - |
| Girimehkala | 55 | 435 | Chariot | Rp | Rp | Rp | Rp | Rp | Wk | Wk | Wk | Wk | Wk | Wk | Wk | Wk | Wk | Wk | Wk | Physical Guard | Thunderbolt Card |
Eternal Punishment
Enemy
Lv
HP
Arcana
Drop
Rare
Ghost
1
9
Devil

Wk

St

St

St

St

-
-
-
-
-
-
-

Wk

Nu

-

Nu

Antidote
-
Slime
1
8
Tower
-
-
-
-
-
-
-
-
-
-
-
-

Wk

Nu

-

Nu

Medicine
-
Poltergeist
2
12
Devil
-
-
-
-
-
-
-
-
-
-
-
-

Wk

Nu

-

St

Medicine
-
Pixie
2
12
Lovers
-
-
-
-
-
-
-

St

Wk

-
-
-

St

St

-

St

Clean Salt
-
Guzfan
3
20
Hanged Man
-
-
-
-
-

St

Wk

-
-
-
-
-

St

St

-

St

Antidote
-
Nightmare
3
24
Moon

Wk

St

St

St

St

-
-
-
-
-
-
-

Wk

Nu

-

Nu

Ball of Returning
-
Ratatosk
4
24
Hermit
-
-
-
-
-
-
-

Wk

St

-
-
-

St

St

-

St

Seed of Escape
Magna Card
Zombie Schoolgirl
4
28
Zonbie

St

St

St

St

St

Wk

-
-
-
-
-
-

Wk

Nu

-

Nu

Medicine
-
Empusa
Apep x2
4
3
56
74
?
-
-
-
-
-
-
-
-
-
-
-


Wk

-


St

-
-
-
-
-
-
-
-
-
-

Nu




St

Nu




St

-
-

St




St

¥5000
-
Gallery
Trivia
In Shin Megami Tensei IMAGINE, a replica of the Seven Sisters High School Bag can be obtained through Fortune Cards. Its description said that it was a replica of a school bag carried by the students of Seven Sisters High School in Tokyo before the Great Cataclysm.
Like the other high schools in the Persona series, Seven Sisters High School's logo is based on the logo of an automotive brand. The seven stars in the logo are a reference to the Seven Sisters star cluster, the Pleiades, which is featured on the logo for Subaru Corporation ("Subaru/昴" means the Pleiades). On a side note, the corporate logo only has six stars instead of seven as Merope is said to be too dim to be visible to the naked eye.
In classroom 3-B a girl named Yoko (who only appears in the very beginning of the game) has a love rivalry with Lisa. After being rejected by Tatsuya she holds a grudge against Lisa for "stealing him away."