This page or file should be renamed to "

Searchable Objects

"  for the following reason: Depends on how Futaba's Treasure Reboot ability refers to it.


To discuss this rename, please go to the Noticeboard. Editors may continue to edit the page or update the file, but this notice should not be removed and action taken until the discussion is closed.
To administrators: Remember to check what links here and update the link before deleting the old name redirect.
To users: Remember to enter the new name for easy processing.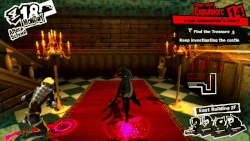 Searchable Objects or Search Objects (サーチオブジェクト*)? are a mechanic in Persona 5.
Profile
[
]
Many breakable search objects are scattered in Palaces that can yield certain items. They are generally themed per location, such as how they appear as boxes or urns in Kamoshida's Palace, or how they take the appearance of daruma dolls in Shido's Palace. A majority of these boxes are empty and contain nothing, but they can be identified easier via the use of Third Eye, in which case they'll then emit a yellow glow.
The protagonist can interact with these objects (empty included,) in which case he'll break them, and they remain broken for the rest of the day. In Mementos, they are gathered on the middle of the street, and simply colliding with them will automatically gather the objects. In the process, he will receive a random item, with the possible options varying between Palaces, or divided between paths in Mementos.
Generally, the items that can be received from these breakable objects are certain consumable items (such as Devil Fruits and Revival Beads), treasure items, which can be sold for a price, and in Mementos only, material items, which are used for crafting infiltration tools. Also, when breaking an object, there is a chance for a Treasure Demon to spawn from it, in which case the protagonist will have to chase it and attack it to initiate battle. Their spawn rate can be raised with the Treasure Trap tool.
Futaba Sakura's skill Treasure Reboot has the chance to revive all search objects in the area after a battle is over.
In Persona 5 Royal, consumable items can only be found in Mementos, and material items can be found in both Mementos and Palaces. Additionally, in Mementos, certain items can only be found during rainy and snowy weather or weather warnings.