GTA: The Criminal Enterprises - The Loop
Play Sound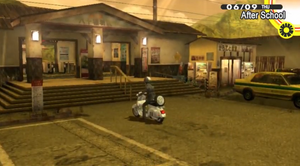 Scooter, also known as Bike Riding, is an activity in Persona 4 Golden.
Appearances
[
]
Profile
[
]
Persona 4 Golden

[

]
The protagonist automatically unlocks the scooter on June 9th once Yosuke Hanamura asks the protagonist to get a motorcycle license. The protagonist will receive a scooter from Ryotaro Dojima once he obtains the license. A new event featured after the protagonist and Yosuke get their licenses also appears exclusive to Persona 4 Golden where Kanji, Yosuke and the protagonist visit Okina City. The protagonist can use the scooter everyday, either during daytime or after school.
The scooter can be found outside the Dojima Residence and can be used to gradually unlock new locations inside and outside Inaba by taking a ride around the neighborhood or taking a long ride after. Once the protagonist is able to take a long ride, he is able to visit Okina City and Shichiri Beach.
Riding your Scooter will also boost the protagonist's Courage.
Social Link Invite Bike Skills
[
]
The protagonist can invite Investigation Team members found outside the Moel Gas Station at the Central Shopping District after school. Each party member can learn new skills found exclusively by riding the scooter and cannot be obtained via normal methods.
Rise Kujikawa can be invited by the protagonist, but will not obtain any new skills outside of an All-Out Attack Boost which will increase every time the protagonist invites her.