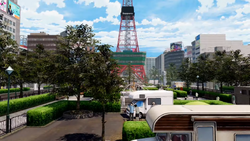 Sapporo (札幌, Sapporo)? is a location in the series.
History
Sapporo (札幌市, Sapporo-shi)? is the fifth largest city of Japan, and the largest city on the northern Japanese island of Hokkaido. It is the capital city of Hokkaido Prefecture and Ishikari Subprefecture.
Sapporo holds the famous Sapporo Snow Festival, an annual festival spanning over seven days in February. Many people visit it for its snow statues and ice sculptures. There, thousands of snowmen are made each year.
One landmark is its Sapporo TV Tower (さっぽろテレビ塔, Sapporo Terebi-tō)?, located on the ground of Odori Park. In addition, this is one of the main sites of the Sapporo Snow Festival. Other main sites are Susukino and Tsudome.
Appearances
Profile
Devil Survivor 2
Sapporo is the location where Alioth is fought during the events of the Septentrion Arc on Thursday after Shiva shoots it down with Pasupata.
Persona 5 Strikers
Sapporo is one of the locations the Phantom Thieves travel to during their summer vacation. They visit the Chūō-ku (中央区*)? ward. One of the locations the protagonist can travel to is Susukino, one of the major red-light districts in Japan and one of the main sites of the Sapporo Snow Festival. However, it's referred to as Suzushino in-game. Another place the group visits is likely the Former Hokkaidō Government Office.
There, they meet Mariko Hyodo, a charismatic politician who is an old acquaintance of Haru Okumura's father, Kunikazu Okumura. She is actually the former mayor of the city, but was discredited because of a scandal where an ice sculpture collapsed and killed a 7 year old child, with a former senator using the incident to take the power for himself. She now uses the EMMA app to get herself re-elected.
Gallery