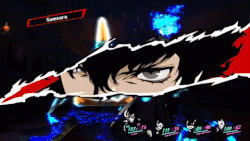 Samsara (回転説法, Kaiten Seppou)?, known as Circular Reasoning in Persona 2: Eternal Punishment, is a skill.
Effect
[
]
A skill exclusive to the Persona series. In the Persona 2 duology, Samsara is an ailment-inflicting skill. Starting with Persona 3, it became Daisoujou's signature skill as the best Light-based instant-kill skill available in those games. Furthermore, it cannot be passed down to any other Personas.
Being an instant-kill skill, Samsara does not work on bosses. This includes bosses who can be affected by non-instant-kill Light skills (should they exist in the game).
Skillset
[
]
Demons & Personas
[
]
Persona 2: Innocent Sin

[

]
Persona 2: Eternal Punishment

[

]
Persona 3 / FES / Portable

[

]
By leveling up
[
]
Persona 4 / Golden

[

]
By leveling up
[
]
Persona Q: Shadow of the Labyrinth

[

]
By leveling up
[
]
Persona 5 / Royal

[

]
By leveling up
[
]
Persona Q2: New Cinema Labyrinth

[

]
By leveling up
[
]
Enemies
[
]
Encounters
[
]
Persona 2: Eternal Punishment

[

]