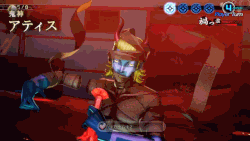 Recarm (リカーム, Rikaamu)? is a recurring healing skill in the series. In the Persona games it is a Miracle skill.
Effect
Recarm revives a fainted ally. As it is the weakest of the revival skills, it often has some drawback or limitation.
Skillset
Party members
By leveling up
By equipping accessories
Party members are able to learn Recarm by equipping certain accessories:
By special means
Demons
Shin Megami Tensei
Shin Megami Tensei II
Shin Megami Tensei: if...
Shin Megami Tensei NINE
Shin Megami Tensei III: Nocturne
Shin Megami Tensei: Strange Journey
By leveling up
D-Source
Shin Megami Tensei IV
Shin Megami Tensei IV Apocalypse
Shin Megami Tensei: Devil Summoner
Devil Summoner: Soul Hackers
Devil Summoner: Raidou Kuzunoha vs. The Soulless Army
Devil Summoner: Raidou Kuzunoha vs. King Abaddon
Megami Ibunroku Persona
Persona 2: Innocent Sin
By leveling up
With Skill Cards
Recarm can be taught to a Persona by using the following Skill Card in fusion:
Skill Card


Recarm Card
Persona 2: Eternal Punishment
By leveling up
With Skill Cards
Recarm can be taught to a Persona by using the following Skill Card in fusion:
Skill Card


Recarm Card
Persona 3 / FES / Portable
By leveling up
With Skill Cards
In Persona 3 Portable, the protagonist can use a Skill Card to teach Recarm to his Personas. It can only be obtained through certain means:
Persona 4 / Golden
By leveling up
With Skill Cards
In Persona 4 Golden, the protagonist can use a Skill Card to teach Recarm to his Personas. It can only be obtained through certain means:
Persona 5 / Royal
By leveling up
With Skill Cards
The protagonist can use a Skill Card to teach Recarm to his Personas. It can only be obtained through certain means: