Arcane: League of Legends - The Loop
Play Sound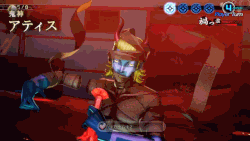 Recarm (リカーム, Rikaamu)? is a recurring Healing skill in the series.
Effect
[
]
This topic is in need of research for the following reason:
* Is Recarm's recovery ability affected under Baton Pass?


This can be discussed on the article's talk page.
Recarm revives a fainted ally. As it is the weakest of the revival skills, it often has some drawback or limitation.
Skillset
[
]
Party members
[
]
By leveling up
[
]
By equipping accessories
[
]
Party members are able to learn Recarm by equipping certain accessories:
By special means
[
]
Demons
[
]
Shin Megami Tensei

[

]
Shin Megami Tensei II

[

]
Shin Megami Tensei: if...

[

]
Shin Megami Tensei NINE

[

]
Shin Megami Tensei III: Nocturne

[

]
Shin Megami Tensei: Strange Journey

[

]
By leveling up
[
]
D-Source
[
]
Shin Megami Tensei IV

[

]
Shin Megami Tensei IV Apocalypse

[

]
Shin Megami Tensei: Devil Summoner

[

]
Devil Summoner: Soul Hackers

[

]
Devil Summoner: Raidou Kuzunoha vs. The Soulless Army

[

]
Devil Summoner: Raidou Kuzunoha vs. King Abaddon

[

]
Megami Ibunroku Persona

[

]
Persona 2: Innocent Sin

[

]
By leveling up
[
]
With Skill Cards
[
]
Recarm can be taught to a Persona by using the following Skill Card in fusion:
Skill Card


Recarm Card
Persona 2: Eternal Punishment

[

]
By leveling up
[
]
With Skill Cards
[
]
Recarm can be taught to a Persona by using the following Skill Card in fusion:
Skill Card


Recarm Card
Persona 3 / FES / Portable

[

]
By leveling up
[
]
With Skill Cards
[
]
In Persona 3 Portable, the protagonist can use a Skill Card to teach Recarm to his Personas. It can only be obtained through certain means:
Persona 4 / Golden

[

]
By leveling up
[
]
With Skill Cards
[
]
In Persona 4 Golden, the protagonist can use a Skill Card to teach Recarm to his Personas. It can only be obtained through certain means:
Persona 5 / Royal

[

]
By leveling up
[
]
With Skill Cards
[
]
The protagonist can use a Skill Card to teach Recarm to his Personas. It can only be obtained through certain means: