This article would greatly benefit from the addition of one or more new images.
Please upload a relevant, official image and place it here. Once finished, this notice may be removed.
This page or file should be renamed to "

Gun Attack

" .


To discuss this rename, please go to the Noticeboard. Editors may continue to edit the page or update the file, but this notice should not be removed and action taken until the discussion is closed.
To administrators: Remember to check what links here and update the link before deleting the old name redirect.
To users: Remember to enter the new name for easy processing.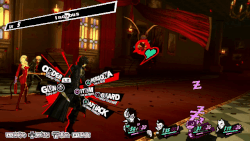 Ranged Attacks are a core mechanic in the series, and are a variant to melee attacks.
Overview
[
]
Ranged attacks are Gun skills that can be performed by party members in combat with no cost. Damage is calculated according to the power of their ranged weapon and their Strength stat.
Shin Megami Tensei NINE

[

]
Basic ranged attacks are absent. Instead, the protagonist can use Single Shot, Double Shot, Long Shot, Drive Shot, or Shell Shot, depending on which gun they have equipped.
Most demons only have a melee attack skill. However, human enemies have both a melee attack skill and a ranged attack skill.
Persona 5 / Royal

[

]
In Persona 5, ranged attacks play a major role in combat. They're only available to party members, and enemies have no access to them. They can use up their turn to shoot and toggle between any enemy as many times as necessary. If the gun is shot at least once, leaving the menu will use up the combatant's turn.
Ranged Attacks are interrupted as soon as Hold Up is initiated, so ammo won't be wasted on accident.
Unlike melee attacks, guns are restricted by ammo, which doesn't replenish unless the party leaves the Palace for the day: the only other way to restore ammo is to craft Reserve Ammo. In Persona 5 Royal, ammo replenishes at the end of battle, and Reserve Ammo has been removed.
Some party members's guns function differently than others: Ann Takamaki's will always aim towards a random target, whereas Haru Okumura's will target all enemies at once.
Each party member's ranged attack is titled according to their gun type (ex. Morgana's is called "Slingshot"), however those can only be viewed if the characters act automatically, which can be toggled via the tactics.
Gallery
[
]