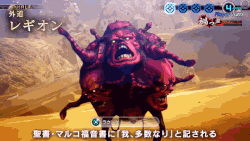 Rakunda (ラクンダ, Rakunda)? is a Prayer skill.
Effect
Rakunda decreases one target's defense.
In Persona 4 and Persona 5, Rakunda lasts for three turns.
In Persona 3 and Persona 4, the damage taken by affected enemies is increased by x1.5. If stacked with Tarukaja on the attacker, the damage is doubled (50%+50%).
Skillset
Magatama
Party Members
By leveling up
Demons
Shin Megami Tensei
Shin Megami Tensei II
Shin Megami Tensei: if...
Shin Megami Tensei NINE
Shin Megami Tensei III: Nocturne
Shin Megami Tensei: Strange Journey
By leveling up
D-Source
Shin Megami Tensei IV
Shin Megami Tensei IV Apocalypse
Megami Ibunroku Persona
Persona 3 / FES / Portable
By leveling up
With Skill Cards
In Persona 3 Portable, the protagonist can use a Skill Card to teach Rakunda to his Personas. It can only be obtained through certain means:
Persona 4 / Golden
By leveling up
With Skill Cards
In Persona 4 Golden, the protagonist can use a Skill Card to teach Rakunda to his Personas. It can only be obtained through certain means:
Persona 5 / Royal
By leveling up
With Skill Cards
The protagonist can use a Skill Card to teach Rakunda to his Personas. It can only be obtained through certain means:
Enemies
Encounters
Megami Ibunroku Persona
Persona 5 / Royal
In Other Languages
| Language | Title |
| --- | --- |
| English | Rakunda |
| Japanese | ラクンダ (Rakunda) |
| Korean | 라쿤다 (Lakunda) |
| Traditional Chinese | 拉坤達 (Lā kūn dá) |