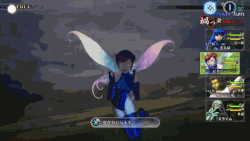 Rakukaja (ラクカジャ*)? is a Prayer skill.
Effect
In the Shin Megami Tensei franchise, Rakukaja raises the defense of the caster's team by one stage and lasts until either the battle ends, the buffed ally is killed, or the buff is negated by a buff removal skill such as Dekaja.
In Devil Summoner: Raidou Kuzunoha vs. The Soulless Army, Rakukaja raises all allies' defense for the duration of the battle.
In the Persona series, Rakukaja raises 1 ally's defense.
In Persona 3, Persona 4 and Persona 5, Rakukaja lasts for 3 turns.
Skillset
Magatama
Party members
By leveling up
Demons
Shin Megami Tensei III: Nocturne
Persona 2: Innocent Sin
Persona 2: Eternal Punishment
Personas
Megami Ibunroku Persona
Persona 2: Innocent Sin
By leveling up
With Skill Cards
Rakukaja can be taught to a Persona by using the following Skill Card in fusion:
Skill Card


Rakukaja Card
Persona 2: Eternal Punishment
By leveling up
With Skill Cards
Raku Kaja can be taught to a Persona by using the following Skill Card in fusion:
Skill Card


Raku Kaja Card
Persona 3 / FES / Portable
By leveling up
With Skill Cards
In Persona 3 Portable, the protagonists can use a Skill Card to teach Rakukaja to their Personas. It can only be obtained through certain means:
Persona 4 / Golden
By leveling up
With Skill Cards
In Persona 4 Golden, the protagonist can use a Skill Card to teach Rakukaja to his Personas. It can only be obtained through certain means:
| Persona | Method |
| --- | --- |
| Shiisaa | Chagall Café |
Persona 5 / Royal
By leveling up
With Skill Cards
The protagonist can use a Skill Card to teach Rakukaja to his Personas. It can only be obtained through certain means:
Enemies
Encounters
Persona 5 / Royal