Queen Mab is a recurring demon in the series, based on the fairy queen from Shakespeare's "Romeo and Juliet."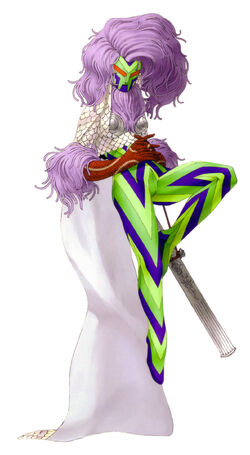 History
"The fairy queen in Celtic myth. Often identified with Titania, Oberon's wife. She would offer mead mixed with her blood to her many consorts."
—Compendium Info
Queen Mab is immortalized in "Romeo And Juliet" in Mercutio's legendary monologue (Act I, Scene 4), which is often called the "Queen Mab Speech", which includes, "And in this state she gallops night by night/ Through lovers' brains, and then they dream of love/ O'er courtiers' knees, that dream on court'sies straight/ O'er lawyers' fingers, who straight dream on fees/ O'er ladies' lips, who straight on kisses dream/ Which oft the angry Mab with blisters plagues..."
Appearances
Stats
Persona 3: FES
| Inherit | Resists | Block | Absorbs | Reflects | Weak |
| --- | --- | --- | --- | --- | --- |
| Recovery | Fire, Ice | Electricity | None | None | Slash |
Persona 4
| Inherit | Resists | Block | Absorbs | Reflects | Weak |
| --- | --- | --- | --- | --- | --- |
| Electricity | None | Electricity | None | None | Wind |
Skills
Persona 3: FES
| Skill | Effect | Cost | Level |
| --- | --- | --- | --- |
| Posumudi | Recover one ally from Poison. | 5 SP | Innate |
| Dodge Wind | Doubles evasion against Wind attacks. | Passive | Innate |
| Dodge Ice | Doubles evasion against Ice attacks. | Passive | Innate |
| Recarm | Revives an ally with 50% HP. | 20 SP | 28 |
| Dodge Strike | Doubles evasion against Strike attacks. | Passive | 29 |
| Dodge Pierce | Doubles evasion against Pierce attacks. | Passive | 32 |
Persona 4
| Skill | Effect | Cost | Level |
| --- | --- | --- | --- |
| Zionga | Inflicts a moderate amount of Electricity damage on one enemy. | 8 SP | Innate |
| Tentarafoo | 25% chance of inflicting the Confusion ailment on all enemies. | 12 SP | Innate |
| Dekunda | Cancels -nda effects. All allies. | 15 SP | Innate |
| Recarm | Revives an ally with 50% HP. | 8 SP | 26 |
| Dodge Wind | Doubles evasion against Wind attacks. | Passive | 27 |
| Mazionga | Inflicts a moderate amount of Electricity damage on all enemies. | 16 SP | 29 |
| Resist Confuse | Lessens chance of succumbing to Confusion attacks. | Passive | 30 |