Raise a Floppa - The Loop
Play Sound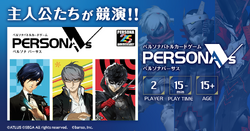 Persona VS is a card battle game based on the Persona series, particularly Persona 3, Persona 4 and Persona 5.
Profile
The card game was created by Banso in collaboration with Atlus to commemorate the 25th anniversary of the Persona series. It has an estimated release from mid-December 2021 until the end of the year. The game will feature a story.[1][2]
Gameplay
The game is designed for 2 players with a playtime of at least 15 minutes. The game starts by having the players select one of the 3 protagonists of the respective games.
Roughly, cards are divided in three types: Persona, Support and React. There are more than 70 of them in total.
Persona cards consist of various Personas in the series: each card has to types of uses: one consists of Abilities that always takes place during battle, and the others are skills, which are divided into types (Physical, Fire, Ice, Electricity and Wind) and can inflict specific amounts of damage. Additionally, each card has a listed weakness to one of these types of attacks, and striking said weakness will trigger a 1 More. Additionally, Personas are able to be swapped out, as well as fused to create more powerful variants.
Support and React cards consist of Persona characters. Support cast powerful effects when used, and React counters the skill of the opponent.
The winner is the player that successfully reduces the opponent's HP to 0. Each protagonist has an epilogue.
There are also pre-made decks for new players based on each protagonist.
Gallery
External Links
References