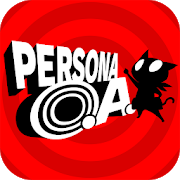 Persona O.A. (ペルソナ オーエー*)? is a free portal application for the Persona series. It was released on March 15, 2018 in Japan for Android and iOS. It was designed as part of Persona 5 The Animation.
The application has ended service on August 30, 2019.[1]
The app featured a calendar, serving as a news feed detailing upcoming Persona related events. Users would be able to mark certain dates as favorites and receive notifications when a scheduled event is coming up.[2]
A Mementos Exploration game was included within the app where Ren Amamiya can explore Mementos with another playable character of their choice. By doing so, players would be able to earn items and "Persona Points."
Persona Points (PP) can be spent on summoning additional Personas. Additionally, they can be redeemed for special web content, such as downloadable wallpapers and lotteries for event registrations.
There have been serial and QR codes exclusively released through related Persona products, which could be used to obtain more Persona Points. Otherwise, players are able to earn Persona Points by signing in daily.
By exploring Mementos, the bond with the partner that accompanied the protagonist will deepen, which will trigger a light character interaction event, each one written specifically for the app. After a conversation has occurred, it can be replayed at any time in the event gallery.
Pre-registration for the application started on February 16, 2018 before its release a month later.[3]
On Launch Day, a login bonus campaign was started. They started giving away 100 Persona Points daily in place of the usual 50 for a week until March 21. The developers have expressed plans for expanding their pool of character conversations and giving players the ability to summon Personas in Mementos.[4]
In terms of daily rewards, the day cycle changes at 4AM JPT, or 3PM EST.[5]
The application was initially accessible on Android phones 5.0 and later, but was later expanded to 4.4. As for iOS, 5S and up was needed to run the app.
On July 31, 2019, it was announced that Persona O.A. will be terminated on August 30. Afterwards, the functions within the application would no longer be accessible, but wallpapers can still be used if they've been downloaded in advance. Its last update, 1.2.10, was distributed on Aug 1, 2019.[1]
Unused QR Code Mechanic in Persona 5 Royal

[

edit

|

edit source

]
In Persona 5 Royal, there is an unused QR code mechanic. The protagonist would find these QR codes around town using the Third Eye and scan them to gain points to summon Personas in the O.A. app. There were 100 QR codes that would appear in various places depending on certain dates. This feature was removed because the app shut down a few months before Persona 5 Royal launched on October 31st, 2019 in Japan.
Community content is available under
CC-BY-SA
unless otherwise noted.