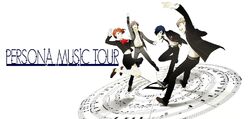 Persona Music Tour 2010 was a concert tour that were held in three different cities: Osaka, Nagoya and Tokyo. It featured songs from Persona 3, Persona 3 FES, Persona -trinity soul- and Persona 4.
The concert was announced on June 20, 2010 and was to be held in three separate venues and dates.[1] The concert for Osaka was held on Friday, August 6, 2010 at the Osaka BIG CAT venue. The venue opened at 6:00pm and the concert started at 7:00pm. On the next day August 7, 2010, Saturday, the Nagoya concert was held at the ell.SIZE venue. Doors opened at 5:00pm and the concert started an hour later. One week later on August 14, 2010, the Tokyo concert was held. The venue the concert was held in was the now defunct SHIBUYA-AX concert hall, doors opened at 5:00pm and the concert started an hour later.[2]
Those who purchased the limited editions of either the "Persona Music Live 2009 -Velvet Room- ~in Wel City Tokyo" concert dvd or the "Persona Music Live Band" recording CD are able to apply for lottery for ticket reservation. Tickets cost 5,000 yen and could be bought starting from July 10.[3]
Performing on stage are:[4]
DJ WAKA
Takatomo Hamaguchi (Guitar)
Motohiro Kuroda (Bass)
Takeshi Endoh (Drums)
Tetsuya Kobayashi (Keyboard)
Tomonari Harada (Saxophone & Flute)
Takamichi Tsugei (Manipulation)
Community content is available under
CC-BY-SA
unless otherwise noted.