Fire Emblem Warriors: Three Hopes - The Loop
Play Sound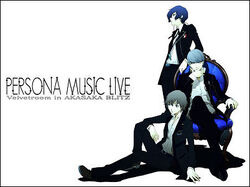 Persona Music Live 2008 -Velvet Room- ~in Akasaka Blitz was a concert held on August 22, 2008. It featured songs from Persona 3, FES, Persona -trinity soul- and Persona 4.
Profile
[
]
The concert was held in Akasaka Blitz, Minato city and tickets were sold for 4,500 yen. Performing on stage were:[1]
Shoji Meguro (Lead Guitar)
DJ Waka
Takatomo Hamaguchi (Guitar)
Motohiro Kuroda (Bass)
Takeshi Endoh (Drums)
Tetsuya Kobayashi (Keyboard)
Tomonari Harada (Saxophone & Flute)
Takamichi Tsugei (Manipulation)
Tsuyoshi
Nobu
Keiko
Mayuki
Set List
[
]
Merchandise
[
]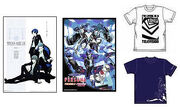 Various merchandise could be bought at the venue:[2]
Persona Music Live 2008 Limited Poster
Persona Music Live 2008 Standard Poster
Persona Music Live 2008 Penlight
Persona Music Live 2008 T-shirt (Blue), has a print of the key art in front
T-Shirt (White), says "I'm Living in a Television"
CD filled with piano renditions of Persona songs
The concert is available in DVD format in both standard[3] and limited editions[4] produced by Aniplex. The limited edition includes a bonus CD with 4 tracks from the concert, "Battle Hymn of the Soul," "Pursuing My True Self," "Burn My Dread" and "Mass Destruction."[5][4] There is also the retailer bonus CD which contains the tracks "Unavoidable Battle" and "The Almighty" from the concert.[6] A Persona Music Live Band recording CD was also released; it included 10 songs from both -Velvet Room- 2008 and 2009 Music Live.[7][8]
Broadcast
[
]
The "Burn My Dread" performance was broadcasted on a program called PPV on the TV Kanegawa channel. Broadcasts were set on the following dates and times:
9/16 (Wednesday) 10:55pm
9/21 (Monday) 7:25am and 10:55pm
9/22 (Tuesday) 7:25am
9/23 (Wed) 10:55pm
9/24 (Thu) 7:25am
9/25 (Fri) 10:55pm
9/28 (Mon) 7:25am and 10:55pm
9/30 (Wed) 7:25am and 10:55pm
Gallery
[
]
Trivia
[
]
The start and ending VTRs are presented by Igor, Elizabeth and Margaret in the elevator Velvet Room, done in the style of Persona 3 dialogue.
At the start of the concert, a cloaked figure stands in the middle of the stage while the band plays "Battle Hymn of the Soul," a song with no vocals. Once the next song starts, the cloaked figure is revealed to be Shihoko Hirata, main vocalist of Persona 4. This became the start of a trend in Persona concerts where a cloaked figure stands in the middle of a stage and is revealed to be a main vocalist from the latest released game at the time.
Three performances were included in one of the brand new bonus channels in Persona 4 Golden, Song Battle 2012. The songs in question are "Pursuing My True Self," "Mass Destruction" and "Reach Out to the Truth."[9]
References
[
]