New Pokemon Games - The Loop
Play Sound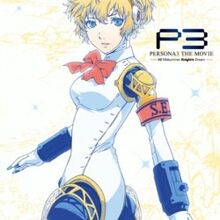 PERSONA 3 THE MOVIE #2 Midsummer Knight's Dream Soundtrack CD is the official soundtrack for the movie Persona 3 The Movie: Midsummer Knight's Dream. Released on March 4th, 2014 by Aniplex, it contains 19 tracks. It is composed by Shoji Meguro and Tetsuya Kobayashi with vocals by Yumi Kawamura and Lotus Juice.[1] The Theme Song set contains 4 tracks and was a pre-order bonus.[2]
Songs from this album are also used in Falling Down and Winter of Rebirth.
OST Tracklist
#
Japanese Name
English Name
Occurrence
Duration
01
--
Fate is In Our Hands
Opening Song

SEES fight against the Lovers Full Moon Shadow

4:45
02
--
Temporary Vacation
SEES' first day at Yakushima
2:18
03
--
Confessions
Hitting on Aigis
1:05
04
--
Past of Ambition
Shinjiro and Strega have a talk
2:05
05
--
One Single Word
Aigis protects Makoto from the shadows
1:14
06
--
Grudge
Ken awakens to his Persona
1:50
07
--
Comes to a Showdown
Strega traps SEES in the military bunker
1:02
08
--
Mode Orgia
Aigis activates Orgia Mode
0:50
09
--
Castor
Shinjiro helps SEES
0:43
10
--
Warm Heart
Junpei meets Chidori for the first time
1:00
11
--
How Come
Aigis exposes Shinjiro cooking for Koromaru
0:37
12
ワイルドに営業中♪
Wild Buisness♪
The 2nd years talk about ending the Dark Hour at Wild Duck Burger
1:54
13
--
Cruelty
Shinjiro's Persona goes Berserk, Ken realizes who the true culprit is
1:51
14
--
Heart Wavers
SEES' inner conflict
2:35
15
--
Core Dark
Strega decides to cut SEES down to size
0:55
16
--
And Destiny
Fortune and Strength Boss Fight
2:04
17
--
Such a Fool
Fortune and Strength Boss Fight
1:01
18
--
Trigger
Takaya Shoots and the shadow is killed
0:51
19
--
One Hand, One Heartbeat
Shinjiro's Funeral

Ending Song

4:27
Disc Length 33:07
Theme Song List
Disc Length 19:12
Trivia
Despite "One Single Word" and "One Hand, One Heartbeat" containing lyrics, they both aren't included in the theme song set.
The next two movie sequels feature songs from Midsummer Knight's Dream's OST. Falling Down:
"Warm Heart" -piano ver.- plays when Junpei is looking at Chidori again
"Warm Heart" plays when Chidori says she likes seeing Junpei
"Heart Wavers" plays when Yukari recalls seeing her father's message again
"Core Dark" plays when Takaya and Jin break into the hospital to break Chidori out
"Warm Heart" plays when Junpei sees Chidori's drawing and vows to be the man worthy of her
Winter of Rebirth:
"Heart Wavers" play when SEES are trying to cope with the fact that they're going to die
References