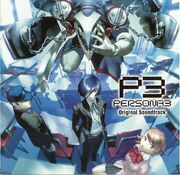 Persona 3 Original Soundtrack is the original game soundtrack of Persona 3. The soundtrack was composed by Shoji Meguro, with vocals by Yumi Kawamura and Lotus Juice.
Track List
Edit
Disc 1
No.
Name
U.S. Name
Occurrence
1
Burn My Dread
--
Intro movie
2
全ての人の魂の詩
Aria of the Soul
Velvet Room
3
はじまり
Beginning
Story intro
4
この不思議な感覚
This Strange Feeling
Protagonist in the hospital after first summoning Orpheus
5
Want To Be Close
--
Gekkoukan High School (Semester 1)
6
Troubled
--
Event
7
Crisis
--
Shadow event
8
シャドウ
Shadow
Shadow attacks the dorm
9
ペルソナ発動
Persona Invocation
Before protagonist first summons Persona
10
避けられぬ戦い
Unavoidable Battle
Battle against Arcana Magician, Strega battle, Elizabeth battle
11
やすらぎ
Peace
Peaceful event
12
When The Moon's Reaching Out Stars
When the Moon Reaches for the Stars
Port Island exploration theme
13
巌戸台分寮
Iwatodai Dormitory
Dorm theme
14
The Voice Someone Calls
--
Tartarus entrance, title screen of the original verison of Persona 3
15
tartarus_0d01
--
Theme of Tartarus (1st block)
16
Mass Destruction
--
Battle
17
戦いのあと
After the Battle
Victory fanfare
18
p3ct004_01
--
Second animated cutscene
19
Deep Breath Deep Breath
--
Priestess Shadow event; Operation Babe Hunt
20
Master of Shadow
--
Arcana boss battle
21
ポロニアンモール
Paulownian Mall
Shop
22
tartarus_0d02
--
Theme of Tartarus (2nd Block)
23
嫌な予感
Unsettling Premonition
Morning conversations regarding Full Moon events.
24
Fearful Experiance
Fearful Experience
Mystery events during Dark Hour, Reversed/Broken Social Link
25
Calamity
--
Crisis during Dark Hour
26
試験中…
Junior Exam
Examination Week
27
Adventured act:
Adventured act
Club Escapade
28
Joy
--
Social Link Events
29
tartarus_0d03
--
Theme of Tartarus (3rd Block)
30
深層心理
Deep Mentality
Hierophant and Lovers Shadow event
31
The Path is Open
--
Persona evolution
32
The Path Was Closed
--
Game Over
Disc 2
No.
Name
U.S. Name
Occurrence
1
Changing Seasons
--
Gekkoukan High School (Semester 2)
2
Basement
--
Chariot and Justice Shadow event.
3
Master of Tartarus
--
Tartarus Boss Battle
4
これでいいんだ…
It's Alright...
Shinjiro confronts Takaya
5
Living With Determination
--
Sad event
6
tartarus_0d04
--
Theme of Tartarus (4th Block)
7
京都
Kyoto
Kyoto hotel
8
Afternoon Break
--
Lunchtime
9
時価ネットたなか
Current Net Price Tanaka
Tanaka's Home Shopping Network
10
tartarus_0d05
--
Theme of Tartarus (5th Block)
11
10年前の記憶
Memory of 10 Years Ago
Flashback in Yakushima / Ryoji regains his memories.
12
Mistic
--
Name input, decision to kill Ryoji on Dec 31st
13
心の力
Power of the Heart
Arcana revelation
14
街の記憶
Memories of the City
Theme of Port Island (after Dec 31st)
15
学園の記憶
Memories of the School
Theme of Gekkoukan High (after Dec 31st)
16
Living With Determination -巌戸台分寮アレンジ-
Living With Determination – Iwatodai Dormitory Arrange-
Theme of dorm (after Dec 31st)
17
tartarus_0d06
--
Theme of Tartarus (6th Block)
18
暗闇より出でしもの
That Which Comes From The Darkness
Cutscene theme of Strega , Nyx Avatar battle intro
19
全ての人の魂の戦い
Battle Hymn of the Soul
Nyx Avatar battle
20
Nyx
--
Theme of Nyx
21
決意
Determination
Create Universe Arcana
22
Burn My Dread -Last Battle-
--
Opening cutscene; Battle against Nyx
23
絆
Bonds
Mitsuru's speech in the ending sequence
24
私が守るから
Because I'm Protecting You
Protagonist and Aigis on school roof in the ending sequence
25
キミの記憶
Memories of You
Staff roll
26
Blues in Velvet Room
Blues of the Soul
Bonus track
Community content is available under
CC-BY-SA
unless otherwise noted.